Corrections Officer
Āpiha Whare Herehere
Alternative titles for this job
Corrections officers are responsible for the safe, secure and humane containment of prisoners. They manage prisoners' sentence plans and rehabilitation programmes to help reduce reoffending.
Pay
Corrections officers with one to three years' experience usually earn
Senior corrections officers usually earn
Source: Department of Corrections.
Job opportunities
Chances of getting a job as a corrections officer are good in some regions due to a shortage of workers, but average in other regions where prison units are closing.
Pay
Pay for corrections officers varies depending on their experience and level of responsibility.
Corrections officers in training usually earn about $47,000 a year and earn about $49,000 upon completion of training
Trained corrections officers earn between $49,000 and $57,000 a year.
Senior corrections officers earn between $60,000 and $63,000.
Principal corrections officers earn between $67,000 and $71,000.
Source: Department of Corrections.
(This information is a guide only. Find out more about the sources of our pay information)
What you will do
Corrections officers may do some or all of the following:
supervise prisoners' daily routine, which includes meal, work and recreation times
patrol prison buildings and grounds
observe the behaviour of prisoners and help implement and monitor the progress of prisoners' sentence plans
monitor prison visits and record visitors' details
prepare reports relating to prisoners and any incidents that occur
monitor, assess and manage potentially harmful prisoners
escort prisoners to court hearings, funerals or appointments with dentists or doctors.
Skills and knowledge
Corrections officers need to have knowledge of:
prison policy, procedures, rules and routines
control and restraint techniques
first aid and safety procedures.
Working conditions
Corrections officers:
work shifts including public holidays, weekends and nights. They work eight hours a day and 80 hours a fortnight. They may also be on call
work in prisons and courts. They also supervise prisoners in work groups on prison grounds or off-site
work in conditions that can be demanding and stressful as they may be at risk of verbal and physical abuse.
What's the job really like?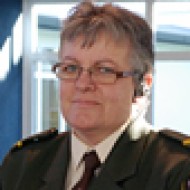 Trish Hutchison - Corrections Officer
Job satisfaction comes from seeing prisoners make changes
Corrections officer Trish Hutchison's job satisfaction comes from seeing prisoners make changes. "Like when they start to accept responsibility for their actions, or motivate themselves with work or study."
Establishing a good, but professional relationship with prisoners is important, she says. "You can be friendly, but you are not their friend. Prisoners appreciate honesty and consistency, but respect is not automatic – it's earned through your actions."
When a prisoner with a high media profile comes in Trish is keen to ensure they are kept in safe and humane conditions, rather than form opinions. "The judging has already been done, which is why they're in prison. It's not up to me to judge them again."
Job can change dramatically from moment to moment
The job is not all mundane tasks, Trish says. "It's a very unusual job because it can change dramatically within a very short space of time, with unplanned events like a pregnant prisoner going into labour, or the sprinkler system being set off."
A good day? "Where everyone is safe at the end of my shift without any incidents."
Trish Hutchison is of Ngāi Tahu and Kāti Huirapa descent.
Hirini discovers what's involved in becoming a corrections officer - 8.56 mins.
Hirini: Hello, my name is Hirini Pirihi and I'm interested in being a corrections officer at the Department of Corrections.

Clinton: So, today Hirini will spend the day inside the walls of Spring Hill Corrections Facility, a 650-bed prison for males located in the Waikato.

Hine: Morning Hirini!

Hirini: Morning!

Hine: I'm Hine Khan, I'm corrections officer here at Spring Hill.

Clinton: And first up, Hine escorts Hirini, inside the high security unit. So what is Hirini's first impression?

Hirini: A little bit of intimidation when you first get in, that's why I'm going to try and stay close to the guards!

Hine: OK Hirini, this is where I work, alright, welcome to 16 alpha. As you can see there are two pods in the unit – this side is the motivated side, prisoners who are identified as drug free, gang free, they're compliant in the unit with the rules of the unit and also their behaviour is good. The prisoners however on this side are the opposite side of the coin, so they're our unmotivated side.

Hirini: So what kind of crimes do most of these guys do?

Hine: Well high security prisoners are in here for some fairly serious offences OK – you're looking at murders, sexual violation, aggravated robbery and also drugs.

Inmate: Yeah my cuzzie, f*** yeah bro…

Hine: OK Hirini, part of the routine is to conduct cell searches, so I think we'll start with cell 8. Excuse me…

Inmate: I'll just get my shoes, I'll just get my shoes bro!

Hine: We'll check your cell first and then you can have your shoes if you wanted your shoes. You should have had them on before you left the cell.

Hine: Stand back! Stand back!

Inmate: F*** man, come on brother! F***!

Hine: We'll have a look in these shoes, shall we, and find out why he was so keen to get hold of the shoes…Well look at that – what have we got here? It looks like a cellphone, there's something wrapped up in this gladwrap…

Hine: Just you!

Hine: Stand back, mister, stand back.

Hine: It's nothing to do with you.

Hine: So we have found unauthorised items in your cell – namely a cellphone and also some drugs.

Inmate: Oh what the f***! That's not my stuff, Miss!

Hine: Alright? OK, thank you.

Inmate: Oh f***!

Hine: Leave the cell.

Clinton: The rest of the cell comes up clean, but abusing staff will have serious repercussions for this prisoner, and his misconduct will be investigated further leading to disciplinary action.

Hine: Corrections officers are front line and they're on the floor with the prisoners on a daily basis, so we cop everything, absolutely.

Clinton: Dylan Phillips is a career criminal specialising in car theft for a gang and he's halfway through a five-year sentence. But Corrections is not just about punishment, it's about rehabilitation and reintegrating an offender back into society.

Hine: What sort of family support do you have out there?

Dylan: Um…not a lot, well mum died a few years back and I haven't talked to my dad in 15 years or something.

Hine: Well that's a shame

Dylan: Well I've been a sh*t my whole life, you know? He won't want to talk to me.

Hine: You know nothing's worse than not having contact with your family. From my own experience I didn't see my dad or talk to him for a long time and then I find out he's passed on, so it's not a good place to be.

Dylan: Yeah, well I do have some old contact details. Could you try and get in contact with him?

Hine: Yeah, if you're able to give me the details, I can make the initial call.

Clinton: In this situation public safety is the first concern. So Hine needs to make the first contact with Dylan's dad.

Hine: So I just thought I would give you a call to see how you felt about speaking to your son.

Clinton: Dylan's dad is willing to see him, but because of Dylan's history of bad behaviour, Hine needs to get sign-off from her manager, principle corrections officer Paul Dickenson.

Paul: There's a few hurdles we have go through first. What's his misconduct history like?

Hine: He incurred a few incidents and misconducts 12 months ago.

Paul: But nothing in the last six months?

Hine: No, nothing. He's actually been very compliant in the unit.

Paul: Tell the prisoner that if there's any misconducts between now and visit happening then I will just cancel it straight away – that's a given, and also to let him know that this wouldn't have been approved if his behavior had continued the way it was 12 months ago. So it's a little bit of a reward for him – let him know that.

Hine: Sure, thank you. Alright, great. OK bye bye.

Paul: Thanks, bye.

Steve: Miss, can I speak to you please?

Hine: Oh hi Steve!

Clinton: While Hine is on the way to tell Dylan the good news, she is stopped by prisoner Steven Ranui who is anxious to talk.

Hine: What's the problem?

Steve: I need to talk to you about my accommodation and for my release has fallen through and I don't want to have any accommodation right now. And I need your help now, please.

Hine: I enjoy working with prisoners. I enjoy the challenge that's involved in dealing with a lot of their issues. Helping to get them on the right track.

Clinton: Hine will work on Steven's problems with his case manager. And the next day, she oversees Dylan's special visit from his dad.

Dylan's Dad: Hello son.

Dylan: Hi dad.

Dylan's Dad: How are ya?

Clinton: But, a lot of time has passed, and there is no way of knowing which way this visit will go.

Dylan: So what have you been doing for the last 15 years?

Hine: Well, I've got to be honest about that – we can't rehabilitate all of them. It doesn't happen. We've got some pretty hardcore people in here that will come in here, play the game, and go back to the "same old, same old" out there, and then they'll be back again before you know it.

Dylan: I was thinking I want to get into something that would, you know, benefit me – get me some skills for when I do get out so I don't have to mix in those same circles and end up back where I always have been

Dylan's dad: Yeah, looking back, I do recall – and I know it's been a while – but when you were a young fella you used to like knocking around with me and helping me out at the timber yard and banging the hammer around…

Dylan: Yeah, I think I do…

Hine: If were able to work with prisoners and mentor them and hopefully assist them in making good choices, I think I'd feel quite pleased about the fact that I've done my job well and to see them get released and make good decisions out there.

Hine: Hey, Miss, do you think you could get me into doing some carpentry?

Clinton: For Dylan, the visit, organised by Hine, has triggered him to make a change in his life.

Hine: Sure, I'll put the referral in and get back to you, OK?

Dylan: Yeah, that would be awesome, thanks.

Hine: When I see people change like that I do feel quite proud, but also I feel quite successful too, from the point of view that I've assisted them to get there.

Hirini: From now on I reckon I will look at a prisoner differently. Being a corrections officer? Communication is pretty intense but I reckon it's a pretty cool job.

Clinton: There are no specific qualifications to enter this career, but life experience and good communication skills are essential. Because of this, Corrections don't consider people straight from high school. You must also be physically fit, have a clean driver licence, a first aid certificate, and no criminal convictions within the last 20 years. If accepted, all training is given to you on the job by the Department of Corrections while you are earning. Corrections officers progress in their careers to more senior roles as they gain experience.

Clinton: Coming up, will case manager Conan Manina be able to fix Steven Ranui's accommodation problem, and get Dylan into the carpentry course that could turn his life around?
Entry requirements
To become a corrections officer you must:
pass a medical test and a physical fitness test
comply with the Department of Corrections' criminal conviction policy – you will not be considered if you have received a custodial sentence
have a current driver's licence, and be able to drive a manual vehicle
pass a pre-employment drug test
have a first aid certificate (you can apply without this, but before you are employed you will need to have done a first aid course at your own cost and hold a current first aid certificate)
You must also complete a personality profile, be interviewed by a panel of people, and be assessed on your communication and analytical skills.
New corrections officers complete a six-week residential training course at the Corrections Staff College followed by further on-the-job training.
Personal requirements
Corrections officers need to be:
good at communicating with a range of people, including prisoners and their families and friends
dependable and honest
mature, non-judgemental and fair in their dealings with prisoners
observant, alert and accurate
able to follow orders and set procedures
able to work well under pressure
assertive and able to use their initiative
interested in helping others.
You need to be a good team player – someone who will follow the rules. It's also really important to be non-judgemental and retain a positive outlook.

Trish Hutchison - Corrections Officer
Useful experience
A reasonable amount of life experience is helpful to be accepted into corrections officer training. This could include:
experience in dealing with people or being part of a team environment (such as a sports team)
working with people from a diverse range of communities, ethnicities and backgrounds and/or having an understanding of different languages and cultures
involvement in community-based activities and programmes such as coaching sports, mentoring young people, volunteering and fundraising.
Physical requirements
Corrections officers need to have a good level of fitness as they spend a lot of time on their feet, and the job can be physically demanding if dealing with uncooperative prisoners.
Find out more about training
Department of Corrections

(04) 460 3000 - recruit@corrections.govt.nz - www.corrections.govt.nz

Check out related courses
What are the chances of getting a job?
According to the 2013 Census, the number of corrections officers has been increasing. However, the Department of Corrections reports that there are still too few corrections officers to fill all vacancies.
Reasons for the shortage include:
corrections officers' roles expanding to include more focus on rehabilitation activities, which means more workers are needed
regular vacancies created by 10% of corrections staff leaving the job each year
regular vacancies created by corrections officers moving into more senior roles in the Department of Corrections.
Prison unit closures lead to job losses
Although overall there is a shortage of corrections officers nationally, the chances of finding a job in some regions has decreased after it was announced that 194 people employed by the Department of Corrections would be made redundant between 2015-2016.
The redundancies are occurring at the following prisons:
Waikeria Prison
Rimutaka
Tongariro-Rangipo.
Private organisation managing prisons in Auckland
Most corrections officers are employed by the Department of Corrections.

However, in 2011 a private company, Serco, took over management of the Mt Eden/Auckland Central Remand Prison, and employs prison staff. Serco has also built and is managing a new 960-bed prison at Wiri in Auckland. The prison opened in May 2015.
Sources
Ministry of Business, Innovation and Employment, '2003-2014 Occupation Data' (prepared for Careers New Zealand), 2014.
Ministry of Justice, 'Justice Sector Forecast 2011-2021, Forecast Update', September 2011, (www.justice.govt.nz).
Radio New Zealand website, 'Corrections announce 194 jobs to go', May 2015, (www.radionz.co.nz). 
Statistics New Zealand, '2013 Census', 2015.
(This information is a guide only. Find out more about the sources of our job opportunities information)
Progression and specialisations
Corrections officers may progress to work as:
senior corrections officers (who do some of the same tasks as corrections officers, as well as administration and management duties)
principal corrections officers (who do some of the same tasks as corrections officers, as well as performance management and leadership, supervision and mentoring of other staff)
unit managers.
Corrections officers may also move into prison management.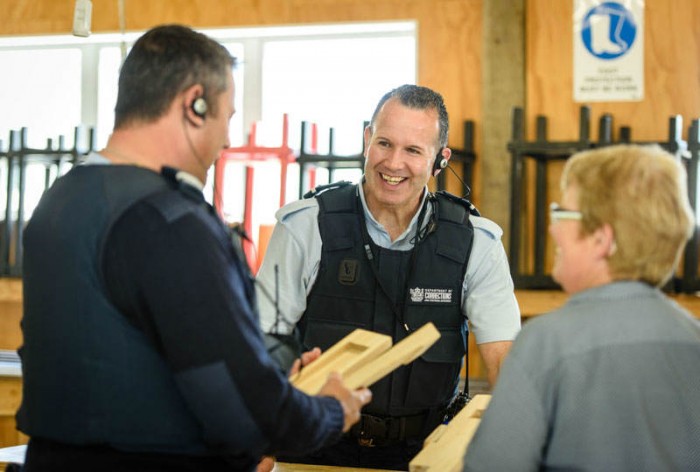 Last updated 7 June 2017