Corrections Officer
Āpiha Whare Herehere
Alternative titles for this job
Corrections officers are responsible for keeping prisoners safe and secure and motivating them to make changes in their lives.
Pay
Corrections officers usually earn
Senior and principal corrections officers usually earn
Source: Department of Corrections, 2022.
Job opportunities
Chances of getting a job as a corrections officer are good due to a shortage of workers.
Pay
Pay for corrections officers varies depending on their experience and level of responsibility.
Corrections officers start on about $60,000 and usually earn up to $69,000 a year.
Senior corrections officers usually earn between $75,000 and $79,000.
Principal corrections officers can earn between $84,000 and $88,000.
Source: Department of Corrections, 'Department of Corrections Frontline Staff (Prisons Based) Collective Agreement CANZ 2021- 2023', May 2022.
(This information is a guide only. Find out more about the sources of our pay information)
What you will do
Corrections officers may do some or all of the following:
supervise prisoners' daily routine, which includes meal, work and recreation times
monitor, assess and manage the behaviour and safety of prisoners
patrol prison buildings and grounds
ensure the physical and mental safety of prisoners
set up and monitor prisoners' sentence plans
monitor prison visits and record visitors' details
motivate prisoners to make changes to their behaviour
help control and lessen conflict in the prison
take part in rehabilitation programmes
prepare reports relating to prisoners and any incidents that occur
escort prisoners to court hearings, funerals or appointments with dentists or doctors.
Skills and knowledge
Corrections officers need to have knowledge of:
prison policy, procedures, rules and routines
control and restraint techniques
first aid and safety procedures.
Working conditions
Corrections officers:
work shifts, including public holidays, weekends and nights
work in prisons and courts. They also supervise prisoners in work groups on prison grounds or off-site
work in conditions that can be demanding and stressful as they may be at risk of verbal and physical abuse.
Entry requirements
To become a corrections officer you need to have:
a current, full driver licence
a clean criminal conviction record
the right to work in New Zealand for at least two years.
You must also pass:
medical, psychological and physical fitness tests
drug tests.
The Department of Corrections provides training for new corrections officers, which includes workplace and classroom learning. Initial training takes two weeks. Full corrections officer training takes 12 months.
The Vulnerable Children Act 2014 means that if you have certain serious convictions, you can't be employed in a role where you are responsible for, or work alone with, children.
Secondary education
There are no specific secondary education requirements to become a corrections officer. However, languages, social studies and te reo Māori are useful.
Personal requirements
Corrections officers need to be:
good at communicating with a range of people, including prisoners and their families and friends
dependable and honest
mature, non-judgemental and fair in their dealings with prisoners
observant, alert and accurate
able to follow orders 
able to work well under pressure 
able to remain positive in difficult situations
assertive and able to use their initiative
interested in helping others.
Useful experience
Useful experience for corrections officers includes:
work as a probation officer
community work
social work
coaching experience.
Physical requirements
Corrections officers need to be fit, healthy and strong as they spend a lot of time on their feet and the job can be physically demanding. They also need to have good hearing.
Find out more about training
Department of Corrections

recruit@corrections.govt.nz - www.corrections.govt.nz
Check out related courses
What are the chances of getting a job?
Strong demand for corrections officers
There is strong demand for corrections officers due to not enough people entering the role.
Corrections Officer will appear on Immigration New Zealand's Green List from March 2024. This means the Government is actively encouraging these skilled workers from overseas to work in New Zealand.
According to the Census, 4,218 correction officers worked in New Zealand in 2018.
Most corrections officers employed by Department of Corrections
Most corrections officers are employed by the Department of Corrections. 
Serco New Zealand employs corrections officers for the Kohuora Auckland South Corrections Facility.
Sources
Christian,H, 'Prisons across the Country are Short Hundreds of Staff, Corrections Reveals', 25 June 2018, (www.stuff.co.nz).
Cowlishaw, S, 'Budget 2018: Waikeria Prison on Hold', 17 May 2018, (www.newsroom.co.nz).
Davison, I, 'Budget 2018: Corrections Get Boost to Cope With Fast-Growing Prison Population', 17 May 2018, (www.nzherald.co.nz).
Department of Corrections, 'Briefing to the Incoming Minister 2017', 2017, (www.corrections.govt.nz).
Department of Corrections website, accessed May 2018, (www.corrections.govt.nz).
Fisher, D, 'Andrew Little: Longer Sentences, More Prisoners – it Doesn't Work and it Has to Stop', 22 February 2018, (www.nzherald.co.nz),
Gattey, M, 'Government Aims to Cut Prison Population and Fix "Abnormal" System', 29 March 2018, (www.stuff.co.nz).
Immigration New Zealand, 'Changes to Immigration Settings Announced, '23 September 2023 (www.immigration.govt.nz).
Ministry of Justice, 'Justice Sector Forecast 2011–2021, Forecast Update', March 2015, accessed May 2018, (www.justice.govt.nz).
Rakuraku,S, manager recruitment administration, Department of Corrections, careers.govt.nz interview, July 2018.
Stats NZ, '2018 Census Data', 2019.
(This information is a guide only. Find out more about the sources of our job opportunities information)
Progression and specialisations
Corrections officers may progress to work as senior corrections officers, principal corrections officers and unit managers.
Corrections officers may also move into jobs in management or policy at Department of Corrections or Ministry of Justice.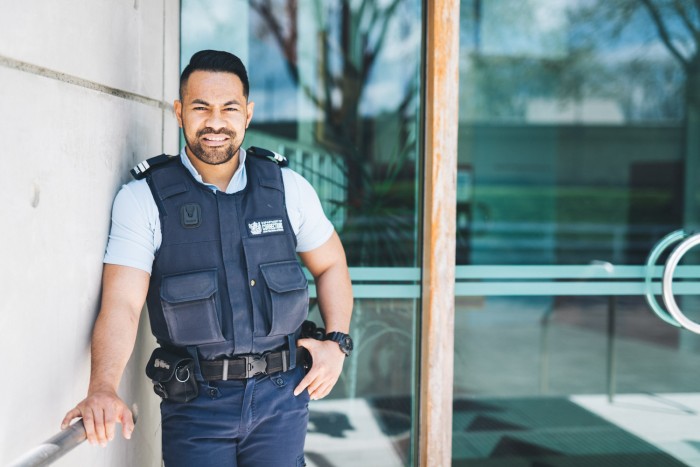 Last updated 26 September 2023