Pay
Source: Restaurant Association of New Zealand.
Job opportunities
Chances of getting a job as a cook are average for those with little experience, but good for skilled cooks.
Pay
Pay for cooks depends on their level of experience.
Junior cooks earn an average of $17 an hour.
Senior cooks earn an average of $19 an hour.
Source: Restaurant of Association of New Zealand, 'Hospitality Industry Remuneration Survey', 2013.
(This information is a guide only. Find out more about the sources of our pay information)
What you will do
Cooks may do some or all of the following:
prepare raw ingredients for menu items, according to customers' orders
cook food quickly and efficiently
arrange food on plates or wrap it to be taken away
give instructions and demonstrate cooking methods and techniques to others
create new recipes and plan menus
order food supplies, organise deliveries and restock shelves
run their own business.
At very small restaurants, the duties of cooks may overlap with other jobs. For example, cooks may take orders and also wash the counters and dishes.
Skills and knowledge
Cooks need to have:
ability to cook quickly and safely in a busy kitchen
ability to follow recipes and instructions
knowledge of food hygiene, stock rotation and food storage methods
knowledge of kitchen equipment
knowledge of how a commercial kitchen works.
Cooks may also need business skills if they run their own business.
Working conditions
Cooks:
may work long hours that include early mornings, evenings and weekends, and may do shift work
work in environments that can be hot, noisy and stressful, as food must be prepared quickly and under pressure.
What's the job really like?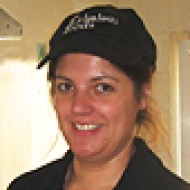 Yvette Speeden
Short Order Cook
You don't have to be stroppy to be a good chef
Having a cool head is an essential quality for anyone thinking about becoming a cook, says cook Yvette Speeden. "You have to be well organised and stay calm. A lot of chefs are so stroppy and I don't think it's necessary; if you lose it, the whole kitchen can fall apart."
Realising formal qualifications are helpful
Starting out in fish and chip shops, Yvette learned her trade through working in kitchens around Hastings. While training on the job has worked for her, she recommends aspiring cooks get a formal qualification. "I started working at an iconic Hastings restaurant just because I was passionate about it. They actually said, 'There's no point you training properly because you'll never be in a position to be a head chef.' Thirteen years down the track I think, 'I should have done some training.' "
Satisfaction in cooking healthy meals
After working for a number of years in restaurants, Yvette and her husband, who is a butcher, bought a mobile food caravan, which they ran until they moved into catering early in 2008. "The best thing is doing what I enjoy most and that's cooking and supplying good healthy meals, trying to source local product and growing a business."
Entry requirements
Entry requirements for cooks vary depending on the employer. Some cafes and bars only employ fully-qualified chefs as cooks, others employ people who have done shorter training courses and train them on the job.
However, many people who work in takeaway bars, fast food restaurants and fish and chip shops have no formal cooking qualifications.
Cookery qualifications offered by polytechnics and other providers 
These include:
food hygiene courses
foundation cookery courses
two-year professional cooking courses
work-based training courses, such as an apprenticeship in cookery.
Secondary education
There are no specific secondary education requirements to become a cook, but useful subjects include English, maths and food technology.
Personal requirements
Cooks need to be:
able to pay attention to detail
quick, efficient and customer-focused
adaptable and creative
able to multitask and maintain concentration
able to work well under pressure and deal with high-stress environments
able to lead a team
able to listen and communicate well.
It's important to love food. If you don't enjoy eating you shouldn't really be in the industry.
Useful experience
Experience as a waiter/waitress, or in a catering or food business is useful for this job.
Some basic training through introductory cooking courses is also useful.
Physical requirements
Cooks need to have a reasonable level of fitness as they spend a lot of time on their feet. They also need good hand-eye co-ordination, as they handle sharp knives and other kitchen tools.
Cooks must have a high level of personal hygiene.
Find out more about training
Hospitality New Zealand

04 385 1369 - nsc@hospitalitynz.org.nz - www.hospitalitynz.org.nz

ServiceIQ

0800 863 693 - intel@serviceiq.org.nz - www.serviceiq.org.nz
Check out related courses
What are the chances of getting a job?
Vacancies common, particularly for experienced cooks
Although vacancies arise often, your chances of getting work are better if you have relevant qualifications and/or experience in the industry, as employers report difficulty finding skilled cooks. This is because:
cooks frequently leave the industry for other work 
hospitality is a large industry, employing about 126,000 people.
Types of employers varied
Cooks work in a range of eateries that tend to specialise in fast food. These include:
cafes
fast food outlets
bars and pubs
small restaurants, grills and bistros
kitchens at private companies, schools, universities, hospitals, care homes and government buildings.
Sources
Ministry of Business, Innovation and Employment, '2003-2013 Occupation Data' (prepared for Careers New Zealand), 2013.
Restaurant Association of New Zealand, '2013 Hospitality Industry Report', 26 July 2013, (www.restaurantnz.co.nz).
ServiceIQ, Careers New Zealand interview, December 2015, (www.serviceiq.org.nz).
(This information is a guide only. Find out more about the sources of our job opportunities information)
Progression and specialisations
Cooks may move into supervisory, or more senior chef positions.
They may also set up their own businesses, such as cafes or takeaway shops.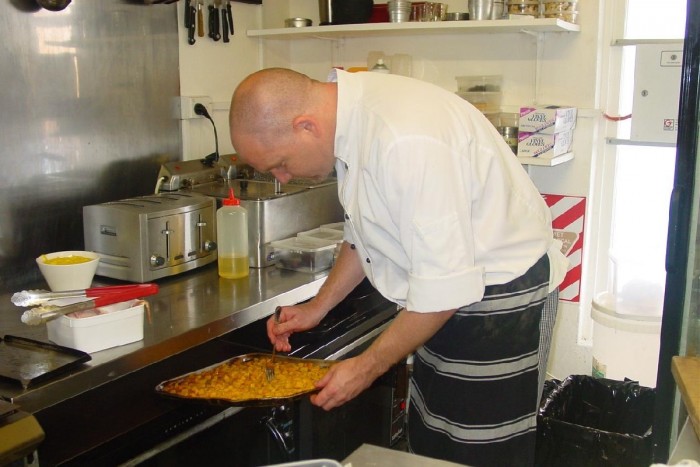 Last updated 12 September 2019