Pay
Qualified bakers usually earn
Source: BIANZ and Competenz, 2018
Job opportunities
Chances of getting a job as a baker are good due to a shortage of workers.
Pay
Pay for bakers varies according to experience.
Unqualified bakers usually earn the minimum wage.
Qualified bakers usually earn up to $45,000 a year.
Bakers working in supervisory roles can earn up to $67,000.
Sources: Baking Industry Association of NZ and Competenz, 2018.
(This information is a guide only. Find out more about the sources of our pay information)
What you will do
Bakers may do some or all of the following:
follow recipes and change ingredients when needed
measure and mix ingredients
knead, roll and shape the dough or pastry for baking, either manually or using a machine
bake items in an oven
prepare items for sale, including icing items or decorating cakes
prepare customer orders and serve customers.
Skills and knowledge
Bakers need to have:
knowledge of bakery products and ingredients
knowledge of baking and decorating processes
knowledge of food hygiene, health and safety regulations
ability to follow recipes
ability to handle machinery and equipment.
Self-employed bakers also need small business skills.
Working conditions
Bakers:
usually do shift work, including early mornings, evenings, and weekends
work in kitchens at places such as bakeries, cake shops, supermarkets, hotels and restaurants
usually work in hot and noisy environments, and have to meet strict deadlines.
What's the job really like?
Baker video
Bree Scott talks about life as a baker - 2.26 mins. (Video courtesy of Competenz)
My name is Bree Scott and I am a finished apprentice baker.

I'm from the Lyttleton bakery in Christchurch and absolutely love my trade.

I got into baking because of my dad. He's been baking pretty much ever since I was born.

When I finished school I wasn't quite sure what I wanted to do and because baking is of such a second nature to me I thought why not give this a go, and I'm so glad that I did because I absolutely love it.

So I studied a baking apprenticeship and it took three years. I'd go there twice every year and I'd do courses with the other student apprentices, and I'd do correspondence and on-the-job work here at the bakery to complete my trade.

I chose baking because it's a love that I've always had and I thought it would be silly to do something else, and ever since I've been doing my baking it's just grown with passion.

Even though I start at four o'clock in the morning every day, when I wake up in the morning it doesn't bother me because I'm coming to work to do something that I love, not a job, so four o'clock - not a problem.

When I finished my apprenticeship, when I qualified I was able to enter in the Young Bread Baker of the Year. I took out the title and from that opportunity I managed to meet and network with other people and from those networking skills I've gone overseas, and it means I have a ticket to go anywhere I want, and also I've managed start a cake business from finishing my apprenticeship.

And it's just amazing - it's just taken me everywhere I wanted to go so it's fantastic.

I think the baking apprenticeship would suit someone who is passionate about baking. It's like anything, you've got to love what you want to do, so if you have a passion for baking or you enjoy baking I think it would be perfect for anybody who'd like to do that.

Competenz have been fantastic. They've always been there backing me, supporting me. There's been people coming out helping me when I had any questions with on-the-job training. Your learning and your skills grow and you get more confident, you also get to meet other people as well. With an apprenticeship you're earning to learn and you also know that when you're finished you're gonna have a job at the end of it, so it's kind of all in one really.

For me if I could sum up my apprenticeship in one word it would just be 'fantastic'.

For the last year and a half all I've wanted to do is make cakes and set up a cake business, and from my passion, my goals and pushing myself, I finished to get there today.

Everything starts with a dream.
Entry requirements
There are no specific requirements to become a baker. However, a certificate in baking is useful. Examples of certificates include:
New Zealand Certificate in Baking – Generalist (Level 4)
New Zealand Certificate in Trade Baking – Craft (Level 4)
New Zealand Certificate in Trade Baking – Plant (Level 4)
Superior Patisserie Certificate (Level 4).
You can complete an apprenticeship and gain a New Zealand Certificate in Trade Baking (Level 4) through Competenz.
Secondary education
A minimum of three years' secondary education is recommended. Useful subjects include health, home economics (food and nutrition) and maths.
For Year 11 to 13 learners, trades academies and the STAR and Gateway programmes are good ways to gain relevant experience and skills.
These programmes may help you gain an apprenticeship, but do not reduce the amount of time it takes to complete it.
Personal requirements
Bakers need to be:
careful and accurate, with an eye for detail
creative
practical and efficient with good organisational skills
able to work quickly
able to work well under pressure
able to follow instructions
able to work as part of a team
able to do basic maths.
Useful experience
Useful experience for bakers includes:
work as a baker's assistant
food-handling work
customer service work.
Physical requirements
Bakers need to be reasonably fit and healthy, with a high standard of personal cleanliness. They also need to have good hand-eye co-ordination. 
Find out more about training
Competenz

0800 526 1800 - info@competenz.org.nz - www.competenz.org.nz

NZ Baking Industry Research Trust (BIRT)
Check out related courses
What are the chances of getting a job?
Not enough qualified bakers to fill vacancies
In 2017, baker job vacancies rose by 29%. Demand is strong for qualified or experienced bakers because:
experienced bakers often go overseas to work
not enough bakeries are taking on apprentices
not enough people are completing baking training to replace those leaving the job
people are often discouraged from doing the job, or do not stay in it long, due to the early starts.
Baker appears on Immigration New Zealand's regional skill shortage list. This means the Government is actively encouraging skilled bakers from overseas to work in New Zealand.
According to the Census, 5454 bakers worked in New Zealand in 2018.
Temporary baker jobs common during peak periods
Many bakeries take on temporary assistants during peak periods such as Christmas.
Working as an assistant is a good way to get a feel for the job, as well as providing useful contacts for getting into the industry.
Types of employers varied
Bakers may be employed by:
specialised bakery stores
bakery product manufacturers
hotels
caterers
supermarkets
cafes and restaurants.
Many bakers are self-employed.
Sources
Bake Info website, accessed March 2018, (www.bakeinfo.co.nz).
Competenz website, accessed March 2018, (www.competenz.org.nz).
Gilbert, K, president, Baking Industry Association of New Zealand, Careers Directorate – Tertiary Education Commission interview, March 2018.
Immigration New Zealand, 'Regional Skill Shortage List', 27 May 2019, (www.immigration.govt.nz).
Ministry of Business, Innovation and Employment, 'Annual Percentage Change in Advertised Job Vacancies, January 2017 to January 2018 Quarters', 21 February 2018, (www.mbie.govt.nz).
Stats NZ, '2018 Census Data', 2019.
Theunissen, M, 'Risk of Bread Shortage as Chance of Bakers' Strike Rises', 1 February 2018, (www.nzherald.co.nz).
(This information is a guide only. Find out more about the sources of our job opportunities information)
Progression and specialisations
Bakers may progress to supervisors or head bakers, or set up their own business.
With further training, bakers may become:
bakery tutors
food stylists
test bakery technicians
food technologists and laboratory technicians
food writers
recipe and product developers
production managers
specialist technical advisers
quality assurance managers.
Bakers may specialise in:
artisan breads
factory production
cake design and decoration
confectionery
pastry.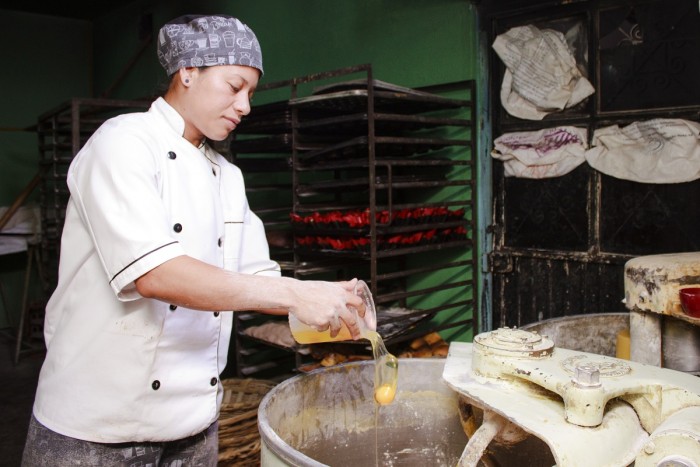 Last updated 28 September 2022