Curator
Kaitiaki Taonga
Curators develop, maintain, research and exhibit collections for museums, art galleries and artists.
Pay
Curators at regional museums earn
Senior curators at larger museums earn
Source: Museums Aotearoa.
Job opportunities
Chances of getting a job as a curator are poor for those wanting to enter the role, and average for those with experience.
Pay
Pay for curators varies depending on their level of responsibility and the size of the institution they work for.
Curators at smaller regional museums or galleries can earn $50,000 to $65,000 a year.
Senior curators or team leaders with five or more years' experience can earn $70,000 to $95,000.
Source: Museums Aotearoa.
(This information is a guide only. Find out more about the sources of our pay information)
What you will do
Curators may do some or all of the following:
liaise with artists, art dealers, and other museums and galleries to get items for exhibitions and collections
decide what items to add to the collection
help decide what items to display in exhibitions
be responsible for the quality of the exhibition installation and presentation
research and write about collection or exhibition items
give talks on exhibitions and collections
work on repatriation projects (the return of art and cultural objects, usually looted, to their original place)
manage budgets.
Skills and knowledge
Curators need to have knowledge of:
the subject area they work in, such as art, history, or material culture (the study through objects of a community's beliefs)
how to handle, conserve and preserve items in collections and exhibitions
funding sources.
Working conditions
Curators:
usually work regular business hours, but may also work evenings and weekends during exhibition events and openings, or when exhibitions are being installed or dismantled
work in art galleries, museums, offices and storerooms
may travel locally or overseas with exhibitions, or to purchase or borrow items from individuals or other collections
may travel internationally as part of repatriation research and work.
What's the job really like?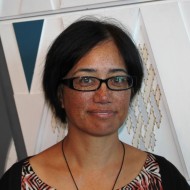 Awhina Tamarapa
Curator Textiles, Weaving and Māori Instruments
What inspired you to become a curator?
"Reading about artist Cliff Whiting's work restoring Māori meeting houses was when I decided museums and working in the cultural heritage sector was for me.
"I started as an intern at Te Papa in 1989. It was hands-on. I then worked my way into my current role as a curator for Te Papa.
"During that time I learned from master carvers and weavers, Rangi Hetet and Erenora Puketapu-Hetet. They initiated a course for people to gain experience in museum work and also learn Māori art and tikanga. An important aspect of kaitiaki taonga is to appreciate how things are made and the practitioner."
What's your day like?
"My day varies. My work involves meeting with iwi and helping them select the taonga they want to display and stories they want to tell.
"Our big mission at Te Papa is to bring taonga alive and look after them, preserve them and make them grow, and reconnect them to their own people."
The best part of the job?
"Helping people. To me that is the best part. Seeing smiles on people's faces when they are learning something new – it actually empowers people and changes their lives sometimes."
Entry requirements
To become a curator you need considerable industry experience and/or a postgraduate degree in a specialist area such as:
art
art history
Māori or Pacific studies
science
anthropology
history.
A postgraduate qualification in museum studies may also be useful.
Secondary education
A tertiary entrance qualification is needed to enter further training. Useful school subjects include Māori studies, Pacific studies, art history, art, classical studies, history, science and English.
Personal requirements
Curators need to be:
able to think creatively about exhibition design
good at research and writing
accurate and methodical, with an eye for detail
able to work well in a team
excellent at networking
good communicators, with public relations skills.
As a Māori curator you're responsible for building the Māori collection. That means acquiring works and finding out more about the different art forms you're looking after.

Awhina Tamarapa

Curator Textiles, Weaving and Māori Instruments
Useful experience
Useful experience for curators includes:
voluntary or paid work in an art gallery or museum
work as an artist, art critic or art historian
library or research work
project management.
Physical requirements
Curators at smaller galleries or museums may have to do some physical work such as painting walls or lifting objects.
Check out related courses
What are the chances of getting a job?
Graduate curators may find better opportunities in smaller museums/galleries
Competition for entry-level curating jobs is strong, so new curators need to be flexible about where they work. Curators usually start off by getting experience at small or regional museums or galleries before getting work at larger organisations.
Some vacancies arise at senior level when experienced curators leave for roles overseas.
More roles for curators who specialise in specific areas
Opportunities are best for curators who have knowledge of contemporary New Zealand art and Māori and Pacific art because galleries and museums often focus on these areas. Curators also increasingly work with collections of digital data, such as film and music files, so experience in this area is valuable.
Types of employers varied
Half of all curators work in museums, with the Museum of New Zealand Te Papa Tongarewa in Wellington being the largest employer. Curators may also work for:
art galleries
auction houses
historic sites
local councils (overseeing public arts policies and projects)
government agencies such as the Ministry for Culture and Heritage, or Creative New Zealand
heritage libraries or archives.
Sources
Ministry of Business, Innovation and Employment, '2006-2014 Occupation Data' (prepared for Careers New Zealand), 2015.
Parton, S J, lecturer, Massey University Te Kunenga ki Pūrehuroa, Careers New Zealand interview, August 2015.
Tocker, P, executive director, Museums Aotearoa, Careers New Zealand interview, November 2015.
(This information is a guide only. Find out more about the sources of our job opportunities information)
Progression and specialisations
Curators typically get their first permanent jobs at small museums or galleries, then progress to larger organisations as they gain experience.
After five or more years' experience, they may move into senior positions or become team leaders. They may also eventually progress to teaching roles such as tertiary lecturer.
Curators may specialise in areas such as:
art
art history
natural history
Māori or Pacific Island culture.
Last updated 4 July 2018