Lighting Technician
Kaihangarau Rama
Alternative titles for this job
Lighting technicians set up and operate lighting equipment to provide light and special lighting effects in theatres, at events, and for film and television productions.
Pay
Event lighting technicians usually earn
Entertainment lighting technicians usually earn
Source: Screen Industry Guild, Professional Lighting Services, Gravity Events, 2018.
Job opportunities
Chances of getting a job as a lighting technician are poor due to strong competition for limited vacancies.

Pay
Pay for lighting technicians varies depending on experience and the type of industry they work in.
Lighting assistants usually earn between $36 and $40 an hour.
Generator operators usually earn between $40 and $45 an hour.
Best boys/girls usually earn between $50 and $52 an hour.
Gaffers usually earn between $55 and $70 an hour.
Pay for lighting technicians working for lighting companies at events varies with experience.
Entry-level event lighting technicians usually start on minimum wage.
Experienced event lighting technicians can earn up to $27 an hour.
Sources: The Screen Industry Guild of Aotearoa New Zealand; Professional Lighting Services; Gravity Events, 2018.
(This information is a guide only. Find out more about the sources of our pay information)
What you will do
Lighting technicians may do some or all of the following:
select and set up lights and equipment
light each scene in television, film and stage productions
operate the lights during performances, concerts, and events
maintain and repair lighting equipment
set up frames and scaffolding for lighting rigs
consult with the event manager, director and camera operator to assess what lighting is required for an event, show or scene.
Skills and knowledge
Lighting technicians need to have knowledge of:
how to use lighting equipment
lighting special effects
heath and safety requirements and procedures
technical skills, including electrical knowledge
the filming process and different camera techniques if working in film or television.
Working conditions
Lighting technicians:
may work long and irregular hours, including evenings, weekends and public holidays
work in theatres, on television and film sets, and at a variety of venues for corporate functions, outdoor events and concerts
may travel between venues and locations depending on the type of work they do.
What's the job really like?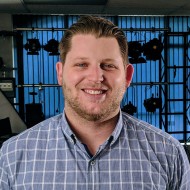 Aidan Simons
Lighting Technician
Lighting technician Aidan Simons has toured with bands and even designed the lighting setup for a music festival, and it all started by being willing to learn and taking every opportunity he could.
Be willing to learn
"Common sense is a key skill to have. There are a lot of hazards when you are working on a stage that's not finished. So having a good head on your shoulders is always important. Attention to detail is quite hard to come by, you definitely notice when someone's got it.
"But ultimately you have to be willing to learn. It is hard, and while some of the things you learn on the job may come easy, some of the skills you need to learn can be challenging."
No day the same
"I love the variety of the job, there's never a day that's similar to any other. It's a diverse job.
"But with the variety comes working a lot of nights and weekends. So balancing your work life and your personal life can be challenging, but it's definitely achievable."
Take every opportunity you can
"If you want to get into lighting just get out there and show interest. Try not to turn down the gigs that don't sound that exciting. I think showing commitment to what you're doing and giving it everything is definitely noticed and then more opportunities will open up."
Entry requirements
There are no specific entry requirements to become a lighting technician as skills are usually learned on the job as an assistant lighting technician. However, it can be useful to have a tertiary qualification in television, video or film and to have completed safety training for working at heights.
Some employers may require you to have a Class 2 driver's licence.
Secondary education
There are no specific secondary education requirements to become a lighting technician. However, English, maths, physics, design and visual communication (graphics) are useful. 
Personal requirements
Lighting technicians need to be:
practical and accurate
well organised, with good planning skills
able to work well under pressure
reliable
able to work well in a team
strong problem solvers. 
Useful experience
Useful experience for lighting technicians includes:
working backstage in theatres
working for a lighting hire and supply company
computer or electrical work
photography
work in the entertainment industry
production work in film or television. 
Physical requirements
Lighting technicians need to be reasonably fit and strong as they often work long hours with few breaks, be able to climb up rigging and carry heavy equipment. They also need to have good hearing and normal colour vision.
Check out related courses
What are the chances of getting a job?
Chances of getting a job as a lighting technician are poor as the entertainment industry in New Zealand is small and there are many graduates with suitable qualifications.
Essential to build up experience
It is essential for lighting technicians to demonstrate their experience and ability with a strong portfolio of previous work. Working on school or amateur productions, and getting casual work for different companies, productions and events are good ways to gain experience.
Increase your chances of employment
You can increase your chances of getting a lighting assistant position by:
obtaining an electrical engineering qualification
completing a first aid course
getting a heavy vehicle driver licence  
being aware of what's happening in the industry and what new programmes and films are being made
having a passion for the work and being committed
approaching employers directly.
Types of employers varied
Lighting technicians may work independently, or for production companies, studios or theatres. They may work on:
music videos
television commercials
corporate videos
television productions
web-based video clips
short or feature films
documentaries
plays
concerts.
Sources
Cochrane, T, director, Film and Television Lighting, Careers Directorate – Tertiary Education Commission interview, April 2018.
Isaacs, David, managing director, Gravity Events, Careers Directorate – Tertiary Education Commission interview, April 2018.
McKenzie, C, sales director, Lighting for Entertainment Group, Careers Directorate – Tertiary Education Commission interview, April 2018.
(This information is a guide only. Find out more about the sources of our job opportunities information)
Progression and specialisations
Lighting technicians may progress to become production managers, or move into camera operator or director of photography roles. Lighting technicians may specialise in lighting for events, film, television or theatre.
Within the film and television industry, lighting technicians may specialise in the following roles:
Lighting assistant

Lighting assistants set up lights under the instruction of a senior lighting technician or gaffer.

Generator operator

Generator operators look after the generator, ensuring it runs smoothly to power the production lights. They also help the gaffer and move lights.

Best boys/girls (lighting)

Best boys/girls order lighting requirements in consultation with the production department and work out the lighting budget with the gaffer.

Gaffer

Gaffers organise the lighting team and work with the director of photography and director to get the artistic lighting required.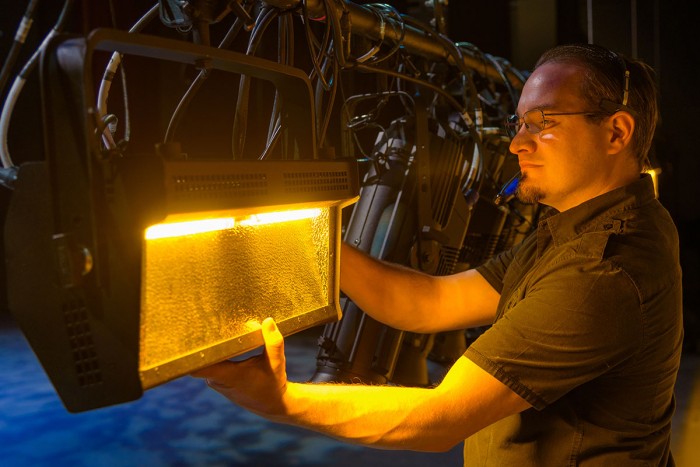 Last updated 14 September 2019