Pay
Insurance advisers usually earn
Experienced insurance advisers usually earn
Source: Hays FY Salary Guides 2019/20 and 2020/21.
Job opportunities
Chances of getting a job as an insurance adviser are good due to steady demand for their services.
Pay
Pay for insurance advisers varies depending on the type of work and clients. 
Insurance account executives usually earn between $60,000 and $78,000 a year.
Insurance account brokers usually earn between $65,000 and $100,000.
Senior insurance account executives can earn between $70,000 and $110,000.
Senior insurance account brokers can earn between $80,000 and $130,000.
Insurance advisers may earn bonuses on top of their base salary.
Source: Hays, 'FY 19/20 Hays Salary Guide', 2019; Hays, 'FY 20/21 Salary Guide', 2020.
(This information is a guide only. Find out more about the sources of our pay information)
What you will do
Insurance advisers may do some or all of the following:
interview clients to identify their insurance needs
explain details of insurance and conditions, risk coverage, premiums and benefits to clients
advise clients on which insurance policies are right for them
analyse clients current insurance policies and suggest additions or changes
calculate insurance premiums
negotiate renewal premiums with insurers and clients
record information about clients and their policies.
Skills and knowledge
Insurance agents need to have knowledge of:
the insurance industry
insurance policies, including what each policy covers
relevant government policies such as tax requirements, benefit allowances and accident compensation
relevant laws such as the Privacy Act and the Human Rights Act.
Working conditions
Insurance agents:
usually work regular business hours, but may work weekends or evenings to meet deadlines
work in offices but may travel locally to visit clients.
Entry requirements
There are no specific requirements to become an insurance adviser as you gain skills on the job. However, by early 2021 all insurance advisers and insurance support professionals will be required to have a New Zealand Certificate in Financial Services (Level 5) due to new legislation.
Insurance advisers can also get qualifications on the job through the Australian and New Zealand Institute of Insurance and Finance (ANZIIF), which offers certificates and diplomas that focus on developing technical insurance skills.
Secondary education
There are no specific secondary education requirements to become an insurance adviser. However, accounting, business studies, English and maths to at least NCEA Level 2 are useful.
Personal requirements
Insurance advisers need to be:
able to relate to a wide range of people
competitive and persistent
confident with making sales
excellent negotiators
good at building and maintaining relationships 
organised, self-motivated and disciplined
patient and helpful
strong communicators.
Useful experience
Useful experience for insurance advisers includes:
other insurance work such as working in claims or customer service
sales or call centre work.
Registration
Insurance advisors are required to register on the Financial Service Providers Register.
Find out more about training
Australian and New Zealand Institute of Insurance and Finance (ANZIIF)

0800 103 675 - customerservice@anziif.com - www.anziif.com

Insurance Brokers Association of New Zealand (IBANZ)

09 306 1732 – www.ibanz.co.nz

The Skills Organisation

0508 754 557 – support@skills.org.nz – www.skills.org.nz
Check out related courses
What are the chances of getting a job?
Specialist insurance advisers in demand
Demand is best for insurance advisers who:
specialise in liability, rural, legal or professional indemnity
have a New Zealand Certificate in Financial Services (Level 5)
can speak another language to give insurance advice to migrant businesses in New Zealand.
According to the Census, 8,115 insurance advisers worked in New Zealand in 2018.
COVID-19 increasing demand for insurance advisers
Due to COVID-19, many businesses are experiencing a decline in revenue and need advice from insurance experts to keep their insurance protections in place.

Types of employers varied
Insurance advisers may work for:
insurance companies
financial institutions
brokerage firms.
Sources
Cuming, A, 'Who are New Zealand's insurance brokers in 2019?', CoverNote, March 2019, (www.ibanz.co.nz).
Crombie Lockwood, 'Serving the growing demand for migrant business insurance advice in NZ', January 2020, (www.crombielockwood.co.nz).
Hays, 'FY 2019/20 Salary Guide: Insights from the Experts', Hays New Zealand, (www.hays.net.nz).
NZ Herald, 'More hardship to come for SMEs', 21 August 2020, (www.nzherald.co.nz).
Stats NZ, '2018 Census Data', 2019.
Stewart, G, 'Liability insurance demand on the increase', Rothbury, May 2018, (www.rothbury.co.nz).
(This information is a guide only. Find out more about the sources of our job opportunities information)
Progression and specialisations
Insurance advisers may progress to financial adviser or management roles, or move into other insurance industry roles such as:
insurance loss adjuster
underwriter.
Insurance agents may specialise in different types of insurance, such as:
commercial
health
life
marine
property.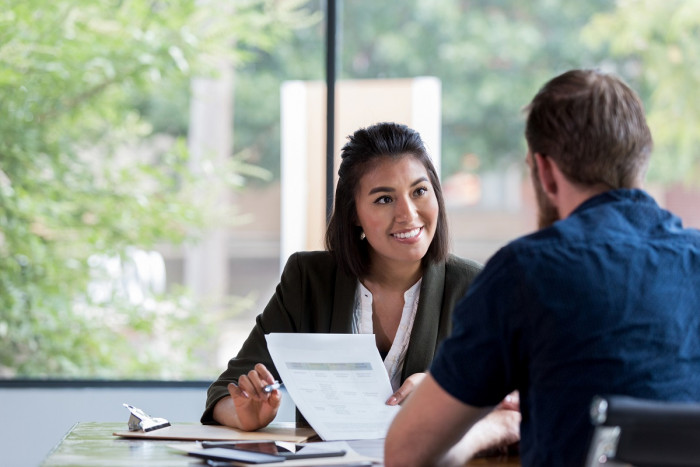 Last updated 9 November 2020