Kitchenhand
Ringawera
Alternative titles for this job
Kitchenhands wash dishes and clean the kitchen and serving areas in eating places. They may also help kitchen staff prepare food.
Pay
Kitchenhands usually earn
Source: Hospitality NZ, 2016
Job opportunities
Chances of getting a job as a kitchenhand are good due to high staff turnover.
What you will do
Kitchenhands may do some or all of the following:
wash dishes and remove rubbish
unload and put away food and other supplies
clean all kitchen surfaces including the floors and equipment
wash, peel, and chop vegetables
prepare other food if needed.
Skills and knowledge
Kitchenhands need to have:
knowledge of cleaning methods and chemicals
knowledge of kitchen safety and food hygiene
skill preparing food and using kitchen equipment.
Working conditions
Kitchenhands:
may work long hours that can include weekend, early morning and late night shifts
work in kitchens in conditions that can be hot, noisy and stressful
may travel to work at off-site functions.
What's the job really like?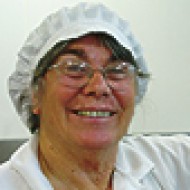 Christine Hamilton
Kitchenhand
Christine Hamilton helps out in the kitchen of a busy cafe from 9am to 3pm, two days a week, and occasionally on a Saturday. "It suits me fine because I help out voluntarily at the Citizens Advice Bureau on the other days, and work in a soup kitchen supplying people with tea, coffee, soup and muffins."
Being busy makes the time fly
"When I first get to work in the morning I start with washing all the baking equipment from the morning's shift, and there are already great big piles of dirty pots and dishes. After that the cafe dishes start coming in from breakfast, so then it gets really busy for a while and I'm also helping out with making paninis or toasted sandwiches and milkshakes.
"Sometimes if it's crowded in the shop I'll step out of the kitchen and help with serving the people out the front."
Good first step for a career in hospitality
"This job is a good starting point for learning about other jobs in hospitality, and there are always opportunities to move around. I've been lucky to learn a few baking tips from the cooks and chefs, which definitely keeps my husband happy – he gets to test them out when I get back home!"
Entry requirements
There are no specific requirements to become a kitchenhand, as skills are gained on the job.
However, a National Certificate in Hospitality, such as the National Certificate in Hospitality (Level 2) may be useful, and offers a good introduction to the hospitality industry. 
Personal requirements
Kitchenhands need to be:
organised, and able to work well in a team
able to work well under pressure
able to show initiative
good at following instructions and paying attention to detail.
Useful experience
Useful work experience for kitchenhands includes work as a cleaner, food counter assistant, waiter/waitress, or any work dealing with food.
Physical requirements
Kitchenhands need to be reasonably fit because they spend long periods on their feet and may have to carry heavy crates of food. Kitchenhands also need to be neat and tidy, with a high standard of personal cleanliness.
Find out more about training
ServiceIQ

0800 863 693 - info@serviceiq.org.nz - www.serviceiq.org.nz
Check out related courses
What are the chances of getting a job?
High turnover of kitchenhands
Vacancies arise often because most kitchenhands only do the job for a short time. Many people see the job as temporary, and positions are often filled by students who move on to other work, or travellers who are in the country for a limited time.
Holiday periods, such as Christmas/New Year and summer, are good times to find casual and part-time work.
Types of employers varied
Kitchenhands may work in:
cafes and restaurants
hotels, bars and pubs
private households
catering companies
kitchens at schools, universities, hospitals, care homes and government buildings
kitchens at private companies.
Sources
Firth, D, Wellington regional manager, Hospitality NZ, Careers NZ interview, January 2016.
(This information is a guide only. Find out more about the sources of our job opportunities information)
Progression and specialisations
A job as a kitchenhand is a good starting point for people wanting to work in hospitality. By doing further training, and gaining experience and on-the-job skills, kitchenhands can move on to become cooks or commis chefs.
It is also possible to move into other related areas, such as food service or bar work.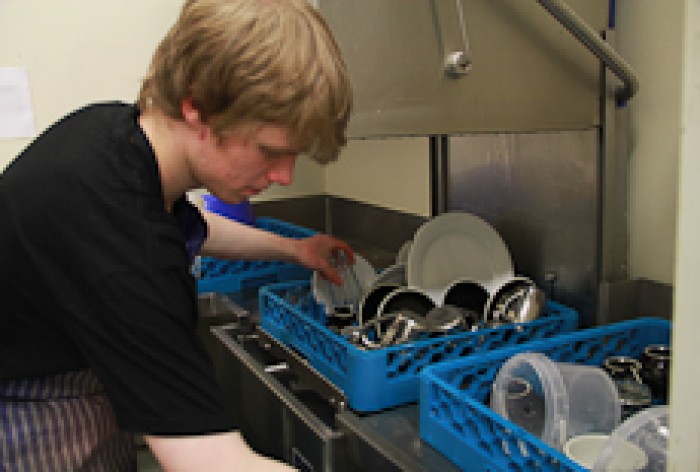 Last updated 24 September 2018