Food and Beverage Factory Worker
Kaimahi Tohitū Whakanao Kai/​Inu
Alternative titles for this job
Food and beverage factory workers prepare ingredients, operate machinery, and bottle or package products. They work in factories that make or process a variety of food or drinks.
Pay
Food and beverage factory workers with no experience usually earn
Food and beverage factory workers with experience usually earn
Source: NZ Food & Grocery Council, 2016.
Job opportunities
Chances of getting a job as a food and beverage factory worker are average due to staff staying in their jobs, but good due to lots of seasonal vacancies and the large size of the occupation.
Pay
Wages for food and beverage factory workers vary depending on experience, number of hours worked and the type of position.
Inexperienced workers start on the minimum wage.
Workers with some experience usually earn between $18 and $25 an hour.
Source: NZ Food & Grocery Council, 2016.  
(This information is a guide only. Find out more about the sources of our pay information)
What you will do
Food and beverage factory workers may do some or all of the following:
collect raw materials for processing
measure, mix and cook raw materials
control the temperature and automated processes for making products
check the quality of the product and document results at certain times of the production process
operate and maintain machines
inspect and pack the final product
clean and sterilise the factory processing area.
Factory workers may do other tasks such as preserve fish and meat, and peel, slice and can vegetables depending on the type of factory they work in.
Skills and knowledge
Food and beverage factory workers need to have knowledge of:
the product being made or processed
safety and hygiene regulations
practical skills to operate food manufacturing and processing machinery. 
Working conditions
Food and beverage factory workers:
may work overtime and do shift work
work in factories
work on their feet and in conditions that may be noisy, wet, slippery, hot or cold.
What's the job really like?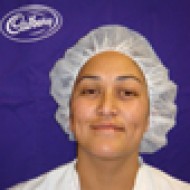 Lillian Hosking
Food and Beverage Factory Worker
Whenever Lillian Hosking sees the well-presented, neatly wrapped boxes of Cadbury Roses in the supermarket she gets a thrill.
"I feel really pleased, especially if the shelves they're on are half-empty. Being one of the people who packed those chocolates, it feels great to see people are buying our stuff!"
Lillian worked her way up the line
Lillian started at Cadbury's Dunedin factory working on chocolate production lines, and for the past five years has been leading teams of factory workers. After years of work she's found her rhythm. "It comes automatically to me now – for example, I can pack 14,000 to 16,000 little boxes of Roses per day."
Besides the hands-on work, Lillian has other responsibilities, especially during the busy Christmas season, when she is a seasonal supervisor. "People think, 'Oh, it's just chocolate-wrapping', but there's lots of organising behind it like ordering raw materials and training new temporary staff."
Hard work, but family atmosphere makes it special
"It can be hard work, though – you get tired from being on your feet. But what makes it fun is the people I work with. We've become like a family because we spend a lot of time together – that's the best part. And yes, we do get free chocolates on special occasions," she smiles.
What's hot
Good team spirit.
The opportunity to work your way into a supervising role.
What's not
Being on your feet much of the time.
The work can be repetitive.
Entry requirements
There are no specific entry requirements to become a food and beverage factory worker, but some employers may require you to pass a medical examination before starting work.
Courses in food hygiene and food technology are useful to become a food and beverage factory worker.
Food and beverage factory workers gain skills on the job and can earn national certificates in food and related products processing through Competenz.
Training may include learning about hygiene practices, communication skills, teamwork and leadership, and how to operate computerised machinery and vehicles such as forklifts.
Secondary education
There are no specific secondary education requirements for this job. However, some employers prefer a minimum of three years of secondary education and basic maths and English.
Personal requirements
Food and beverage factory workers need to be:
accurate and careful
good at maths
responsible and able to make good judgements
honest
good team workers
good at communicating
able to follow instructions.
You need to be able to get on with people. You have lots of people working in the factory, all with different backgrounds, so everyone is different. You need to able to get in there and get on with them, do your job and have a bit of fun.

Sue Dolden

Factory Worker
Useful experience
Useful experience for food and beverage factory workers includes:
food retailing
factory work
working in a bakery
brewery work
manufacturing work.
Experience with computers may be useful in some factories.
Physical requirements
Food and beverage factory workers need to be reasonably fit and strong as they can spend long periods on their feet and may need to do heavy lifting.
A high standard of personal cleanliness and good hand-eye co-ordination is also important.
Find out more about training
Competenz

0800 526 1800 - info@competenz.org.nz - www.competenz.org.nz
Check out related courses
What are the chances of getting a job?
Food and beverage factory workers work in all types of food factories apart from those producing meat, dairy and seafood products.
Jobs in the food manufacturing sector, like food and beverage factory worker, are sought after and people often stay in their roles for a good length of time.  
However, vacancies still come up regularly because: 
food processing is a large area of employment in New Zealand, with about 10,000 people working in this role (not including those working in meat, dairy and seafood processing)
seasonal peaks in work mean employers hold large-scale recruitment drives for factory workers. For example, berry-processing factories hire workers in October, ready for the peak in December-January.
Growing Asian market and smaller food processing companies increasing opportunities 
Job opportunities are expected to grow long term because New Zealand's big food and beverage companies are increasing production to supply the growing Asian market. The number of small food processing companies is also growing and this is providing some opportunities for food and beverage factory workers.   
Technology brings more opportunities    
Many businesses continue to or intend to automate some of their food manufacturing processes and this is predicted to eventually replace around five percent of their workers. While there may be some job losses as technology continues to transform the manufacturing sector, many employers also expect to train their staff to use the new technologies and involve them in more skilled tasks.  
Increasing your chances of finding work  
 You can increase your chances of finding work by:  
getting some work experience, such as seasonal work, which can show you are a reliable worker 
having good literacy and numeracy skills, and being able to follow instructions
being well presented and showing enthusiasm for the job you're applying for.   
 Work available in a range of factories
Food and beverage factory workers are employed by a range of businesses, including:
small privately owned firms
small or mid-sized speciality firms
large processing plants that pack, market and export food products.
Sources
Statistics New Zealand, 'Census of Population and Dwellings', 2014 (www.stats.govt.nz).
Statistics New Zealand, 'Economic Survey of Manufacturing: June 2016 Quarter', accessed September 2016, (www.stats.govt.nz).
Thornton, G, 'Not all doom and gloom on the job' (media release), Scoop, 30 June 2015, (www.scoop.co.nz). 
Webling, B, communications director, Food and Grocery Council, Careers New Zealand interview, September 2016. 
Progression and specialisations
Food and beverage factory workers can progress into supervisory roles on the factory floor or into management roles such as production manager. They can also do other types of factory work or move into food retailing.
Food and beverage factory workers may specialise in different processes, such as bottling, canning or cooking, depending on the type of factory they work in.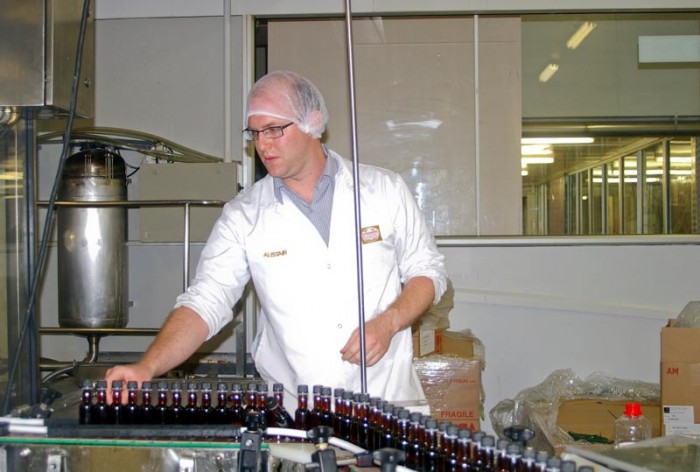 Last updated 11 April 2018