Information Technology Architect
Kaihoahoa Hangarau Pārongo
This job is sometimes referred to by alternative titles
Information technology (IT) architects analyse an organisation's IT needs, oversee the development of IT capabilities, and ensure they fit the business needs of an organisation.
Pay
IT architects earn an average of
Source: AbsoluteIT, 'Remuneration Report', January 2016.
Job opportunities
Chances of getting a job as an IT architect are good due to high demand for these services.
Pay
Pay for IT architects varies. According to an AbsoluteIT salary survey, IT architects in the:
lowest-paid group earned an average of $112,000 a year
middle pay range earned an average of $125,000
highest-paid group earned an average of $160,000 a year.
IT architects working as contractors earn an average of $100 to $180 an hour.
Source: AbsoluteIT, 'Remuneration Report', January 2016.
(This information is a guide only. Find out more about the sources of our pay information)
What you will do
IT architects may do some or all of the following:
analyse an organisation's overall business and establish how information technology is used there
assess new computing applications to see if they are suitable, and if the existing hardware will support them
provide detailed information about costs and benefits of various computing applications
create architectural plans outlining the structure of new computing applications
lead a team of specialists to design and build new computing solutions
test and review new computing solutions and fix any problems
explain to people throughout an organisation how the application will affect their work
develop training manuals and run training sessions to show clients how to use the application.
Skills and knowledge
IT architects need to have knowledge of:
up-to-date developments in computing trends
new technology available in the IT industry
how IT can be used in a business strategy and how to estimate a project's cost
their clients' businesses.
Working conditions
IT architects:
usually work regular business hours, but may have to work some evenings and weekends to meet project deadlines
usually work in offices, but may travel locally to see clients and work on projects
may travel nationally or overseas to attend seminars and conferences about new technological developments.
What's the job really like?
Clive Trott has some advice for anyone aspiring to be an IT architect – learn all you can about business management.
"Don't just do a degree in IT. Combine it with business courses."
People skills and technical skills go hand in hand
According to Clive, it's this dual focus that's been the biggest help to his career. "It's just as important to be able to talk with business people and understand their needs as well as provide IT developers with the technical details to make things happen.
"Team leadership skills are also important as you will be working on projects and have to direct and lead teams of developers."
Experience helps you plan and create unique solutions
"You're planning what has to happen at every level of an organisation's computer system so it's important to be familiar with the pros and cons of many different systems," Clive says.
You get this, he explains, through having broad experience in the industry, which in turn helps you develop unique and workable solutions.
"When you conceptualise a solution and figure out what you're going to do, and how, and make all of the different applications work together – it's a good feeling."
What's hot
Seeing companies save money as a result of your work.
Working with people as well as technology.
What's not
Continually keeping up to date with new technological developments.
Working to tight project deadlines.
Martin Brennan explains what his job as an IT Architect involves - 1.40 mins
Hi my name is Martin Brennan, I'm an integration architect with ANZ bank.
So an architect is responsible for defining the high level solution when a solution is more complex than just one application, they are also responsible for setting strategy and direction in technology.
My role is integration architect - I set strategy for integration within the bank and that involves defining technical standards, to design principles and then guiding people as they implement those standards.
So a lot of the role is an education piece, so face to face in meeting rooms with whiteboards; but we also use tools like Visio and Spark EA and other diagramming tools to try and get the message across, so that everybody understands it the same.
So I have a few technical hobbies - I like to keep learning and expanding my technical skills but I also like to box. About a year ago I was 105 kilos, I was really unfit and my mentor said why not get involved in a charity boxing event. So I trained, I lost a lot of weight – 26 kilos in total. And I learnt to box, and got in the ring and had a fight for charity.
Entry requirements
To become an IT architect you usually need:
a tertiary qualification in a computer-related field such as information systems and/or a qualification in a business-related field
at least 10 years' information and communication technology experience, including work in a senior position.
IT architects need to keep up to date with new technology and developments in software, and may complete further studies and attend seminars in these areas.
Secondary education
A tertiary entrance qualification is required to enter tertiary training. Useful subjects include computing and digital studies, information systems, maths and English.
Personal requirements
IT architects need to be:
able to lead others
able to work through problems logically and methodically
good at analysis
creative and adaptable
able to work well under pressure as they need to meet deadlines
skilled at oral and written communication, with good presentation skills.
Useful experience
Useful experience for IT architects includes:
work in a software development role
computer systems management experience
general business and project management experience.
Physical requirements
IT architects spend a lot of time using computers, so it's important that they know how to use computer equipment properly to avoid occupational overuse syndrome (OOS).
Registration
Registration is not required, but IT architects may choose to become Information Technology Certified Professionals.
IT architects may also take certification exams such as The Open Group Architecture Framework (TOGAF).
Find out more about training
Institute of IT Professionals

0800 252 255 - info@iitp.org.nz - www.iitp.org.nz

New Zealand Technology Industry Association (NZTIA)

09 4750204 - info@nztech.org.nz - www.nztech.org.nz
Check out related courses
What are the chances of getting a job?
Shortage of IT architects
While demand for IT architects is expected to remain strong, the number of IT trainees coming through is insufficient to meet demand.
A survey of IT employers in January 2016 reported that 76% of employers were planning to hire more staff. However, a third of employers said finding and retaining staff was the biggest challenge. IT architect was sixth on the list of top 10 skills that employers were planning to recruit for. 
Because of these factors, the shortage of IT architects is likely to continue. 
Types of employers varied
IT architects work for a wide range of organisations, including:
private companies that provide computer, database and network services to clients 
specialist IT companies
computer consultancies.
Sources
AbsoluteIT, 'Employer Insight Report', January 2016, (www.itsalaries.co.nz).
AbsoluteIT, 'Remuneration Report', January 2016, (www.itsalaries.co.nz).
Hudson Recruitment, 'New Zealand Hiring Expectations – Quarter 3, 2015', 2015, (nz.hudson.com).
Ministry of Business, Innovation and Employment, 'Information and Communications Technology Report – 2015', 2015, (www.mbie.govt.nz).
Progression and specialisations
IT architects may progress to become chief information officers, information technology managers, project managers, or run their own consultancy business.
IT architects may also specialise in a number of roles including:
enterprise architect
solutions architect
application architect
domain architect
infrastructure architect
systems architect
security architect
integration architect.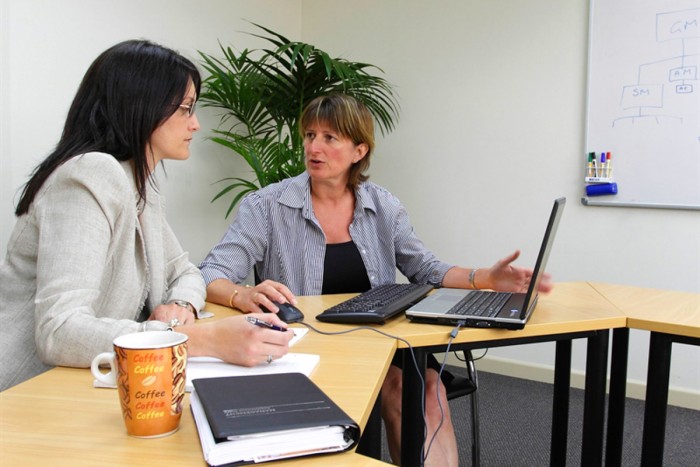 Last updated 16 November 2017