A day in the life of a rocket engineer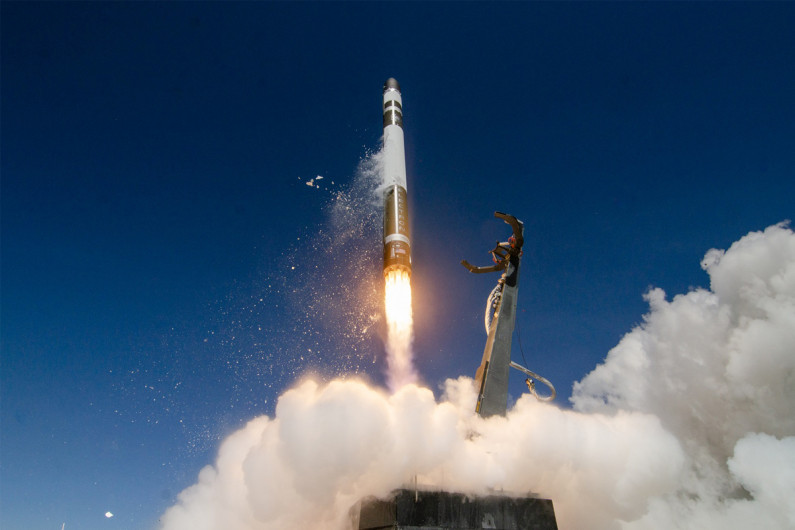 How engineer Janelle Keeble is helping to speed up rocket building at Rocket Lab.
What's on this page?
Rocket Lab is an international aerospace company based in the United States and New Zealand.
Rocket Lab's Electron rocket is a uniquely built small launch vehicle designed to carry small satellites to space.
As a principal manufacturing engineer at Rocket Lab, Janelle leads a team of engineers who support the production line to manufacture the Electron in the best, fastest, and cheapest way possible.

A day in the life of Rocket Lab's principal manufacturing engineer
Every morning Janelle meets with her team to update them on production issues and discuss their projects, which may involve designing new equipment or improving existing equipment and processes.
We're designing technology from scratch that's never been done. You often have to think outside the box with how you're going to make it work.
She then talks with production supervisors who oversee rocket building on the factory floor about technical issues her team can help with to keep production running.
"There are a lot of technical challenges to meet our production rate, which I enjoy.
"I work longer hours sometimes as we're accountable when things go wrong, and there can be a bit of pressure if production has stopped.
"But we're solving fun challenges, and everyone gets stuck in to help each other."
Janelle also works closely with the research and development team to look at upcoming designs and develop new manufacturing processes which may be required. 
She says one of the hardest parts of a manufacturing engineer's job is pushing back on designs which can't be made in an easy-to-build way or at the right cost.  
Another key task for the team is turning the thousands of steps for making a rocket into written instructions to ensure consistency in how it's built.
How manufacturing engineering changed the way Rocket Lab makes rockets
Janelle's team has already helped to speed up and save costs on rocket building by commissioning a new manufacturing robot called Rosie. Before Rosie, the Electron took hundreds of hours to make, but now it can be made overnight.  
Rosie makes the carbon composite parts of the Electron by milling, drilling, sanding, and completing various tasks previously done by hand.
Janelle and her team will play a crucial role in achieving Rocket Lab's goal of launching one rocket per week.
Meet Rocket Lab's Rosie
Watch Rocket Lab chief executive Peter Beck talk about Rosie - 1.30 mins (Video courtesy of Rocket Lab)
Peter: We've just stepped inside Rosie, Rocket Lab's newest piece of automation equipment.
This machine as you can see is absolutely massive. You can literally park a school bus on this - it's that big. What this machine does is it takes every single carbon composite component of the launch vehicle and processes it ready to move on to the next stage of production.
Now what Rosie really means here at Rocket Lab in our launch frequency is they're able to process launch vehicles so much faster.
Traditionally you talk about rocket manufacturing in years, then start talking about it in months, weeks. Well, we talked about it in days. Raw materials come in rockets come out in a matter of hours. So that's every bit of marking, every bit of machining, every bit of drilling, all the operations you can imagine. It literally takes hundreds of hours and we can produce one launch vehicle in this machine every 12 hours.
What you see here is a second stage of Electron getting the final post-processing completed on it ready to ship out to the production line.
How Janelle got to work for Rocket Lab
Janelle has a Bachelor's degree in mechatronics engineering from the University of Auckland. Her career began in medical and petrochemical engineering. 
She hadn't planned to work in the space industry, but her previous experience helped her to learn related mechanical, electrical and manufacturing engineering skills.
"I've been very lucky that my career progression has aligned nicely with this role."
Find out more
Sources
Baker, M, Senior Communications Advisor, Rocket Lab, careers.govt.nz interview, 16 January 2020.
Keeble, J, Principal Manufacturing Engineer, Rocket Lab, careers.govt.nz interview, 16 January 2020.
Mathewson, S, 'Rocket Lab's 'Rosie' the Robot Can Build a Booster in Just 12 Hours', 18 November 2019, (www.space.com).
Rocket Lab, 'Meet Rosie: Rapid, Automated Rocket Production', 9 December 2019, (www.youtube.com).
Rocket Lab website, accessed January 2020, (www.rocketlabusa.com).