Aim for skilled, creative work with a human touch – let AI do the rest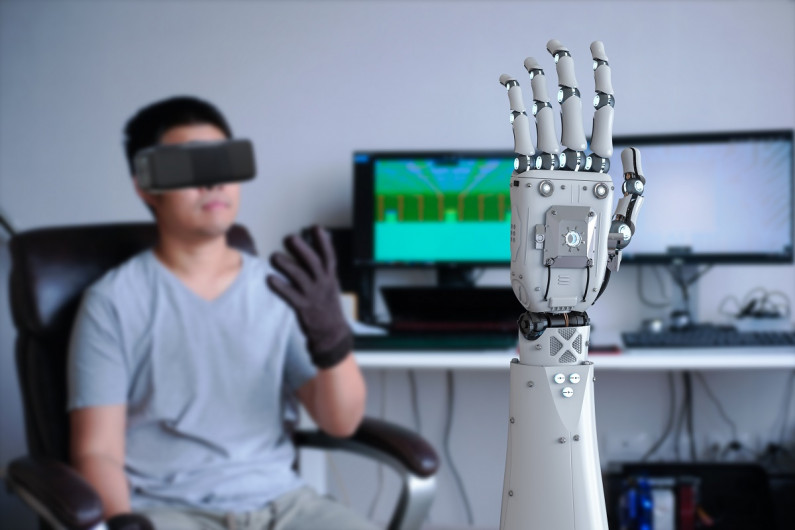 Continuing our future of work series – we discuss how artificial intelligence will take over some roles, and complement the work of humans in others.
The world of work is changing and you need to be prepared. If you have no tertiary qualifications and are in a lower-skilled role, technology could take your job. If you are more highly skilled, you could see your job changed significantly by artificial intelligence (AI).
You can get prepared by learning new skills, and focusing on roles with the human touch.
AI will take over some tasks
In the long term, we'll see software taking over increasingly complex tasks, which will transform the workplace. More job roles will change than become totally automated though, so you'll likely be working alongside some form of AI.
Skilled workers can expect to incorporate AI into their work processes because computer-aided data analysis and decision making will become central to many jobs. Doctors, for example, will be able to make quicker and more precise diagnoses by using computers that can filter huge volumes of medical data.
The greatest benefit of AI will be the combination of human and artificial intelligence – where they complement each other to create better outcomes than either could achieve alone. Whatever shape or form, there's a high probability you'll be working beside an AI companion in the near future – whether that's a virtual secretary or chatbot teaching assistant.
A higher risk of automation for lower-skilled roles
If you have no tertiary qualifications and you're working in a job that has a low level of social interaction, creativity, and skill – for example, a product assembler on a factory floor – your job is at higher risk of automation.
Jobs that require routine measurement, operation or digital pattern recognition, including those that involve manual tasks like driving and machining, will also be likely to face automation. Driverless technologies will have a huge impact on people working in construction, transport, postal and warehousing industries, and on jobs involving a high level of risk. For example, autonomous machines will likely take over the most dangerous jobs in forestry, like log harvesting.
Skilled workers will be affected – particularly in finance, banking, accounting and law
Automation will also affect people working in more highly skilled jobs.
Professions will, on the whole, adapt and refocus their services. People in skilled roles will move away from the more routine, repetitive parts of the work, such as data processing, which computers do well, to other tasks such as giving advice.
However, not all professional roles are immune to job loss. With software taking over increasingly complex tasks – especially in banks, financial institutions, accounting and law firms – the number of skilled jobs available will undoubtedly decline.
For example, 6,000 National Australia Bank knowledge workers lost their jobs recently, as their analytical and decision-making tasks were replaced by software. Though the bank did hire 2,000 new people in the same period, digital disruption is likely to continue shaking up roles in finance, banking, accounting and law.
Industries with the human touch will thrive
If you're working in an industry with a greater reliance on social skills, such as health or education, you're less likely to be significantly affected. While AI and robotics will probably become an important part of health care in the future – with health robots helping the elderly in their homes, for example – it'll be about assisting doctors, nurses and teachers, rather than trying to replace them. 
Key requirements for many emerging roles will be customer service skills, as well as technical skills. Some future roles that will require good people skills include:
Fitness commitment counsellor – providing remote coaching and counselling sessions to improve patient health 
Personal memory curator – consulting with patients to generate virtual reality experiences that bring particular times, places or events to life 
AI-assisted health care technician – examining patients using AI diagnosis software, then communicating remotely with doctors who can check the diagnosis, treat, and prescribe medication for, patients
Financial wellness coach – helping customers keep track of all their digital transactions, and coaching them in how to develop better money habits
Digital tailor – working with customers to ensure clothing items ordered online fit perfectly when delivered, and offering styling and fashion advice.
Set yourself up to survive the changes ahead
If you're working in a job that has a higher risk of automation then it'll pay to add more skills to your repertoire. Start with using the connections you already have. For example, are there any opportunities with your current employer to gain new skills? You can show you're proactive by asking about this. Good workers are an asset to an employer so they may even support you to retrain and get a recognised qualification.
If you're already in a higher skilled role, you'll still need to be proactive as no one is immune to the coming changes. You may find a sideways move in your profession helps you gain more of those vital communication and advisory skills.
Get more future of work articles
Our future of work article series explores the latest career research to show how technology will transform your career.
Sources
Advisory Council on Economic Growth, 'Learning Nation: Equipping Canada's Workforce with Skills for the Future', 1 December 2017, (www.budget.gc.ca).
Baker, S, 'The Global University Employability Ranking', 16 November 2017, (www.timeshighereducation.com).
Center for the Future of Work, '21 Jobs of the Future: A Guide to Getting – and Staying – Employed for the Next 10 Years', November 2017, (www.cognizant.com).
Foundation for Young Australians, 'The New Work Order – Ensuring Young Australians have Skills and Experience for Jobs of the Future, not the Past', 2015, (www.fya.org.au). 
Gartner, 'Gartner Says by 2020 Artificial Intelligence Will Create More Jobs than it Eliminates', 13 December 2017, (www.gartner.com).
Kubiak, L, et al, 'Disruptive Technologies: Risks, Opportunities – Can New Zealand Make the Most of Them?', 21 October 2015, (www.nzier.org.nz).
Manyika, J, et al, 'A Future that Works: Automation, Employment, and Productivity', January 2017, (www.mckinsey.com).
Meister, J, 'AI Plus Human Intelligence Is the Future of Work', 11 January 2018, (www.forbes.com).
PwC, 'Will Robots Really Steal Our Jobs?', February 2018, (www.pwc.co.nz).
Ziffler, D, 'NAB Workers Latest to Fall as Automation Transforms the Economy', 21 February 2018, (www.abc.net.au).