Diversity in the workplace - it's good for business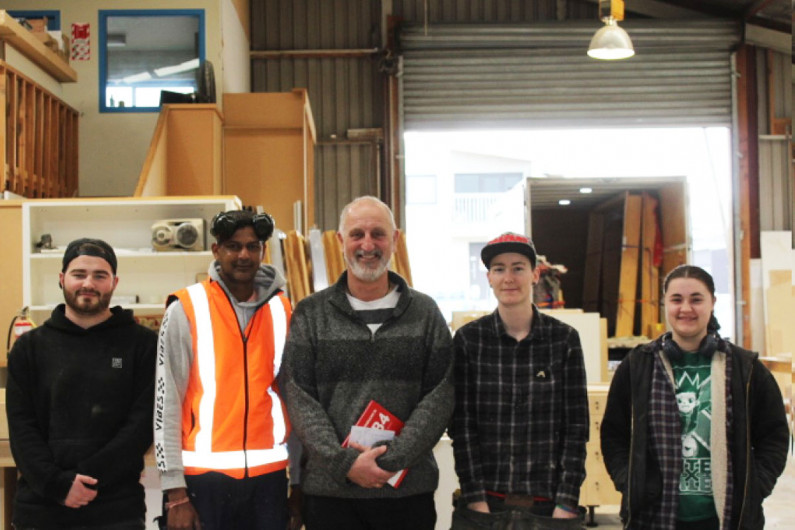 Celebrating diversity and encouraging tolerance in the workplace creates a successful business.
Diversity in the workplace – it's good for business
Husband and wife team Frank and Linda built a successful cabinetry and joinery business based on being inclusive.
"For over 29 years, we've encouraged and supported people from different cultures and beliefs into our business.
"When we decide to take someone on, what matters most to us is whether they really want to learn and work.
We've always been open-minded, and the diversity of the team helps bring in new ideas and a fresh approach to problem solving.
"We employ New Zealand joiners, and joiners from around the world, including a refugee from Myanmar. Two of our seven apprentices are female, and one is a 52-year-old man. We will also employ people with physical disabilities if they are able to do the job as we can adjust the training and the tools to suit specific needs."
"Our business is like a circle," says Frank. "I don't think of myself as being at the 'top'. We're dependent on each other and everybody plays a vital role – that's why training is important.
"We like to give everyone an opportunity to become highly skilled tradespeople."
Solving people-related problems by talking openly
"Like any workplace, we get rough patches, but over the years we've become better at managing our staff," says Frank. "You need to keep the conversation going and encourage staff to be tolerant of other views and opinions. It's also about being transparent."
It's not just with staff that Frank and Linda help break stereotypes. "You'll see some clients are clearly out of their comfort zone when our female apprentices come to work on site. But usually, they'll start changing their minds when they see them working on the job."
It's the little things that make a difference
Breaking stereotypes sounds easy coming from Frank, but he's the first to reflect on his own behaviour.
"I was congratulating the team one day and caught myself saying, 'You guys are brilliant,' when I didn't mean just one gender. It's the little things that make a difference. That's why we say floor manager here, not foreman.
"We want to be the best joiners with the best price and the best workplace in the city," says Frank. "And that means bringing a slice of Hamilton's diversity into our workshop."
Even this is a work in progress. "We're now looking for ways to encourage women returning to work into joinery."
The couple are clearly doing something right because the results speak for themselves.
"We started in 1989 with Work and Income assistance, but now we're a multi-million-dollar business."
Discover how diversity can benefit your workplace
Find out more
The Targeted Training and Apprenticeship Fund (TTAF) is a government fund that will pay fees and compulsory costs for people enrolled on many vocational education and training (VET) programmes.