Grow your career in forestry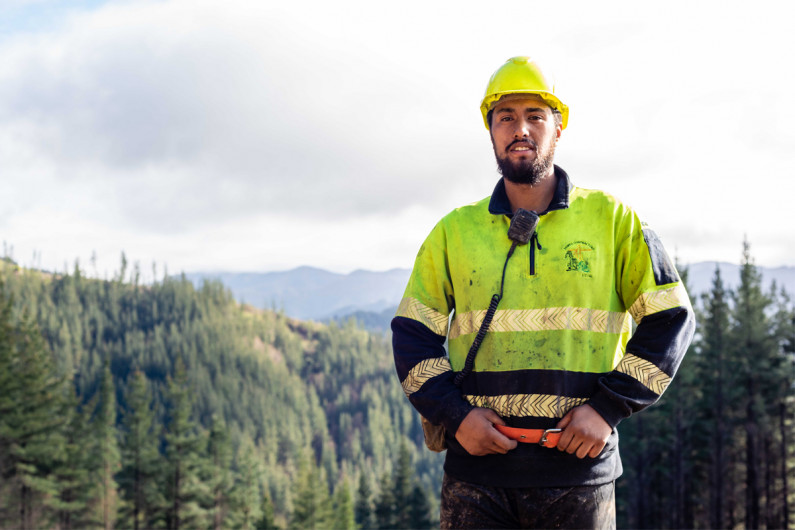 Find out about career possibilities and pathways in the forestry industry.
What's on this page?
Foresters plan, plant, look after and log forests, which take about 30 years to grow for harvest.
The forestry sector helps New Zealand meet its climate change goals because the trees turn carbon emissions from other industries into clean air.
Forestry work falls into three main areas – logging, management and science – and job opportunities are good in all of them.
Forestry and logging work
Forestry and logging workers plant, maintain, measure, cut and clear trees from forests.
There are no specific requirements to become a forestry and logging worker, but you can complete a New Zealand Certificate in Forestry Operations (Level 3) while working.
Fieldwork as a logger is a good place to start in the forestry industry as you learn the core skills. With experience, you can train to become a forest manager or forestry scientist.
Technology is changing the way forestry and logging workers do their job. They now use drones to survey forests for planning or monitoring purposes and use apps to gather data such as cubic metres of logs processed. Workers also control operator-free harvesting and other machines remotely.
Forestry and logging workers usually earn $40,000 to $75,000 a year.
Forest management
Forest managers plan and direct new forest developments, and manage forestry operations. They:
check forest growth and health
supervise staff
manage the business and financial side of forest operations
manage forest security and fire protection.
To become a forest manager you need to have either a diploma in forest management or a degree in forest science or engineering.
Good technical knowledge of managing forests and forestry operations is essential.
Forest managers usually earn $55,000 to $150,000 a year.
Forestry science
Forestry scientists carry out forestry research in many areas, including:
forest growth, health and productivity
wood processing and new harvesting systems
remote sensing and monitoring forests
environmental research
Forestry scientists typically start as technicians with a Bachelor's degree in forestry science or a related area. They may progress into research scientist roles with a Master's degree or doctorate in science or engineering, majoring in forestry science.  
After several years' experience, forestry scientists can progress into senior research scientist, team leader or managerial roles.
Forestry science can include both desk-based research and laboratory work, as well as outdoor work in forests and nurseries.
Forestry scientists usually earn $55,000 to $183,000 a year.
Find out more
Sources
ANZ, 'The Role of Forestry in Meeting New Zealand's Climate Change Obligations', accessed 31 January 2020, (www.comms.anz.co.nz).
Forestrycareers.nz, 'Practical Training Pathways', accessed 31 January 2020, (www.forestrycareers.nz).
Forest Owners Association, 'Facts and Figures 2018/19: New Zealand Plantation Forest Industry', accessed 31 January 2020, (www.mpi.govt.nz).
Ministry for Primary Industries, 'Economic Update for the Primary Industries', June 2020, (www.mpi.govt.nz).
Westpac, 'Industry Insight: Forestry and Wood Processing', accessed 31 January 2020, (www.westpac.co.nz).