What study costs and how to fund it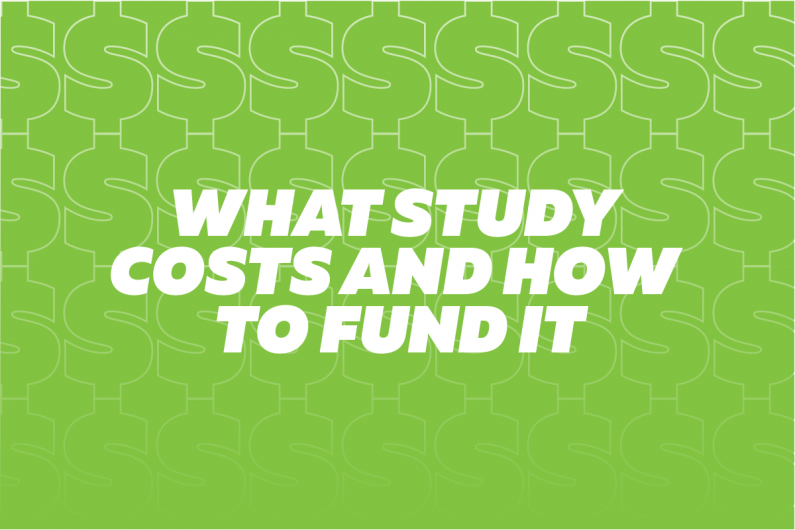 Find out what tertiary study costs, and how you could pay for it.
What's on this page?
Costs for study and work-based training
Course fees
Tertiary course fees range from a few hundred to thousands of dollars a year, depending on the course type, the education provider, and which year of study you're in.
Studying at an education provider, such as a university or wānanga, is usually more expensive than doing an apprenticeship or work-based training.
Course-related costs
Course-related costs can include:
textbooks and stationery
computer items
tools and equipment.
Ask education providers about course-related costs, and where you can look for second-hand items.
Living costs
Living costs (such as rent, food, power and internet) are likely to be your biggest expense, especially if you leave home to study or train.
Funding for training
Fees Free tertiary study
If you're doing tertiary study or trade training for the first time, you may be eligible for the equivalent of one year's study or two years' training paid through the Fees Free initiative.
Some education providers have their own fees-free schemes. Check course costs at different education providers before you enrol.
Consider an apprenticeship
Apprenticeships are available for a range of occupations: hairdressing, flower arranging, operating a crane, panel beating, shearing, and many more.
When you do an apprenticeship you earn at least the minimum training wage, and usually earn more as your skills grow.
See a complete list of occupations where apprenticeships are available, in the New Zealand Apprenticeships Register on the Tertiary Education Commission (TEC) website. Scroll down the page to "Information for Apprentices" and open the Apprenticeships Register.
Apprenticeship Boost supports employers to take on apprentices
Apprenticeship Boost is a payment to help employers keep and take on new apprentices.
The payment is made directly to employers.
Apprenticeship Boost will run until the end of December 2024.
Scholarships for study and living costs
You may be able to get a scholarship that either pays your fees or gives you a grant of money. Every year, there are scholarships that don't get paid because nobody applied for them.
It can take time to apply for scholarships, but they can be an investment in your future - some are worth thousands of dollars a year.
Ways to pay for your study and living costs
You can pay for study, and related costs, in a range of ways.
Student loans and allowances
You may qualify for StudyLink's:
student loans, which you have to pay back once you earn over a certain amount
student allowance and accommodation benefit, which you don't need to repay.


Sign up for RealMe
To apply for StudyLink allowances and loans, you need to sign up for RealMe.
Employers, family/whānau or savings
In some situations, your employer may pay for you to study or train. 
If you do an apprenticeship, you should receive at least the training minimum wage. However, you will still have living costs.
If you train in a Defence Force role, your employer may pay for your training and living costs.
Other ways of funding your study may include borrowing from your family/whānau, or using savings.
Work while you study 
Many people do part-time or full-time jobs while they study.
Income can affect your loan and allowance
Your income may affect when you have to start paying back your student loan, and may mean you get less for your student allowance. A partner's income can also affect your student allowance.
Find out if you can get targeted support
See if you're eligible for financial and other support from a targeted scheme:
Tips for managing your money - video
How can you manage your money while you're studying? Five learners give you some budget tips – 1.59 mins.
Francis: Personally I was always worrying about how much money I had in the bank. I just work as much as I can in the summer and save up.
Amy: I found working while studying is a really big benefit. There is only so much money you can get from the government. If you do need to work to study you've gotta make sure you get everything done before you go to work.
TC: If you're thinking of going to do tertiary study, get onto your student allowance straight away so you get money coming in when you hit your first week of uni.
Shevaun: One of my biggest money worries was not having any money on placement as my part time job was only two weekdays. Dealing with that I sorta just had to do things that didn't cost, yeah, just go without for a wee while.
Amy: Obviously the student lifestyle has quite a social aspect. I had a week that I spent all of my money in town. I ended up having to hand wash my clothes in a bucket with some soap. I lived off rice and sweet chilli sauce for a week and I pretty much just didn't do anything for that entire week.
Francis: During my first year because I was in a hall, they're covering heating, your food, electricity, water, whatnot. If your hall covers all the necessities that you need to survive down there then you shouldn't find yourself needing to pay extra money for things that are already being covered.
Shannon: My advice for saving money is that sometimes living off two-minute noodles, if that's what you gotta do that's what you have to do.
Next step
Your next career planning step is to apply for study, an apprenticeship or training.
Updated 29 Aug 2023