Interior Designer
Kaitātai o-Roto
Alternative titles for this job
Interior designers plan and design spaces in residential, commercial, retail and leisure environments.
Pay
Interior designers with one to five years' experience usually earn
Senior interior designers with more than five years' experience usually earn
Source: Hays, '2015 Hays Salary Guide', 2015.
Job opportunities
Chances of getting a job as an interior designer are average as competition for vacancies is strong.
Pay
Pay for interior designers depends on the company they work for and how much experience they have.
Interior designers with one to five years' experience usually earn between $45,000 and $65,000 a year.
Senior interior designers with more than five years' experience usually earn between $65,000 and $95,000.
Self-employed interior designers may earn more than this.
Source: Hays, '2015 Hays Salary Guide', 2015.
(This information is a guide only. Find out more about the sources of our pay information)
What you will do
Interior designers may do some or all of the following:
discuss design ideas and provide advice to clients
analyse clients' requirements
plan and design building interiors, rooms, shops, and residential and leisure spaces
plan interior infrastructure such as lighting, air-conditioning and communication cabling
prepare drawings, samples and decorating instructions
advise on hiring tradespeople
design furniture or fittings
work with architects and other contractors at the early stages of designing an interior space.
Skills and knowledge
Interior designers need to have:
knowledge of past and present styles of architecture, design and decorating
knowledge of interior materials such as paint, fabrics and glass
knowledge of building regulations
the ability to analyse client requirements and fit the design to a client (ergonomics)
design, drawing and presentation skills.
Working conditions
Interior designers:
usually work regular business hours, but may need to work evenings and weekends to meet deadlines
work in design studios and on-site at private, public and commercial properties.
What's the job really like?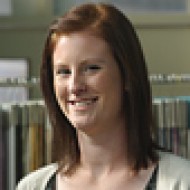 Fiona Tregonning
Interior Designer
Interest in interior design from a young age
At the age of 10, Fiona Tregonning was already mesmerised by TV design shows and full of suggestions for her parents about how they could improve their house. So it's no surprise that in 2008 she was the youngest graduate in Otago Polytechnic's interior design course and has since gone on to find work in her chosen profession.
"I'm now the showroom manager at Active Furnishers in Dunedin. When people come into the shop, I help them with colours or ideas for products that will fit their project – whether it's updating a room or their whole house."
Dealing with people and their different ideas about design
Fiona says the design business can be a bit hard when you are just starting out. "Some people can be a little intimidating. You get people who look at you and think, 'What do you know, you're young and inexperienced.' So, it's my job to prove them wrong.
"What you like isn't necessarily what they like, so you've got to make compromises so that they're happy, but the project is still going to look good and be practical.
"Eventually, I'd like to be out working with clients every day, and using what my course has taught me to create amazing spaces for them."
Joy and Lydia find out about interior design in the area of retail flooring - 6.12 mins. (Video courtesy of FloorNZ)
Joy and Lydia: My name's Joy. I'm Lydia. We're 16 and we go to Middleton Grange School.

Joy: I like to decorate my room and stuff, making it look creative.

Lydia: And I also really love meeting people, I really like talking to random people.

Clinton: With an interest in design and a desire to meet new people, identical twins Joy and Lydia could conquer the world of retail flooring with the help of super salesman David Buckby. They will be spending time learning the ins and outs of flooring retail. So what makes a good salesperson?

David: A person who's quite adaptable, a person who's prepared to accept more radical ideas and also conventional ideas. When the person comes through the door, they could be green with interior. They're a customer.

David: Good morning!

Joy and Lydia: Hi!

David: I'm going to be your mentor while you discover the world of interior design.

Joy: I'm Joy. To tell us apart, I've got the cross.

David: Well let's go in and show you the tools that make this industry really fun. Come on through.

Clinton: The first thing David gets the girls to do is start developing their product knowledge.

David: So have a quick look around the ranges here, see the things that you like personally that take your fancy.

Clinton: Sales staff need to know the range of products as well as all the technical details to help their customers make a decision.

David: They've got to know it, and when a customer asks that question they haven't got an hour to go find it. The customer is too busy.

David: Instead of a background colour like the carpet is sitting on, we've got a definite colour.

David: So product knowledge is important – without it, nothing happens. All that's going to happen is disaster after disaster after disaster.

Lydia: I like the colour and I really like the texture of this one and I like the look of that one.

David: OK. This carpet is nylon, it's a synthetic. And this one is wool.

David: If I worked in this industry for a thousand years, there would always be a challenge with a new product coming to me all the time.

David: And what we've got here is a bit of maple.

Clinton: It's a whirlwind tour of carpet, timber and vinyl for Joy and Lydia.

David: Retail flooring is an understanding of the mediums that you've got to work with and how they apply to the home and how they apply to the customer's life. It's just about creating ambience and a well-being in the home.

Clinton: They have to get to grips with the choices they will have, to help them with the next big job.

David: All right, we're going to go and see a real property, one that's under construction, one that we're actually involved in. And when you come back, you're going to do a colour scheme for this house. So let's see what you can do, OK?

Clinton: A key part of retail flooring is measuring the site to check it is accurate and ready for the install.

David: This is where we quantify or check that the plan we're working with is accurate. So you're going to check that. I'll give you a tape measure, it's one of our best friends, you're going to be using it a lot.

David: A measurer, when he goes to a home, has to be more than a tape measure thrower.

David: Now keep pressure on the tape, keep it down on the floor, watch the end doesn't pull away from the wall.

David: His eyes are looking for things that may be a problem for us – if he gets it wrong, we all get it wrong.

Clinton: Part of the girls' challenge is to match their new flooring with an existing kitchen.

David: Rightio girls, we've been out to the house, you've got a plan, you've taken some measurements. We've seen the kitchen, there's the colour of the kitchen. Show me a colour scheme to go with that home.

David: So guys, what have we got? Let's have a look, let's say we start with Joy. What are we going to do for this house?

Joy: I decided to go with the lighter-type wood, then with the carpet I quite liked that one, because it kind of looked like the bench top.

David: It does too. A few more hours at this and you'll be taking my job. That is pretty good.

David: Lydia, what have you got for me?

Lydia: Right, I've decided to have this for the kitchen – the wooden floor because it's the same as that.

David: So this is good, they work together quite nicely.

Clinton: Once the product has been chosen, it is the quantity surveyor's job to come up with a quote for the client.

David: A QS is a quantity surveyor. Her job or his job is to work out how much product is required in the home. Now, obviously waste is money in the bin, so if they're very good, the amount of waste you're going to get is minimal. If they're bad, you're going to be able to carpet another room with it. And that's going to affect the salesperson, because the cost of the job is going to go up. So the QS fits the product into the home, with the least possible wastage.

Clinton: Joy and Lydia now have an understanding of product, measuring and quoting, so now it is time for them to watch a master salesman at work.

David: Just watch, listen, learn a bit and at the end of it see whether maybe this is a possible career for you.

David: The salesperson is the beginning and the end. If they get it right, we have a satisfied customer, we have a reward for the company, a reward for the salesperson.

Lydia: I think he'd just be showing them what he thinks would be best for their family.

David: If a salesperson gets it wrong, nothing happens. It stops at that point, and that getting it wrong could be 10 seconds or less after they greet the customer. So this whole wonderful thing which is a sale, is developing around the trust and the admiration for both people.

Joy: You can trust him because he knows what he's talking about. He doesn't stumble over his words, he knows all the facts.

David: It is the most exciting industry to be in because it changes constantly, nothing stays the same for long.

Clinton: The experience is over. So what does David think of Joy and Lydia's budding design talents?

David: I was surprised to have two twins, one classic and one contemporary, especially when you chose the product. You two would make fantastic team. It's been great, thanks very much.

Joy: It's definitely an option. It's a really interesting place to work in so I'm considering it.

Lydia: It looks like a good job to do

Clinton: A National Certificate in Flooring (Installation, Estimation and Evaluation) includes measuring, quoting, design, and customer relations. The course costs $800 to $1,000 and lasts two years. Trainees start at around $32,000 a year and a qualified and experienced person can earn $100,000-plus.
Entry requirements
To become an interior designer you usually need a degree or diploma in interior design, spatial design or interior architecture. Some employers may also accept people with degrees in related areas such as architecture or industrial design.
Secondary education
To enter tertiary training, a university entrance qualification is required. Useful subjects include art and art history, English, graphics, computing and maths.
Many tertiary providers require design students to present a portfolio of work when applying for a place on a course.
Personal requirements
Interior designers need to be:
imaginative
creative
accurate, with an eye for detail
good communicators
able to inspire confidence in their clients
able to accept criticism.
To be an interior designer you have to understand and relate well to people, because you are constantly consulting, negotiating, facilitating and debating with them.

Richard Te One

Interior Designer
Useful experience
Useful experience for interior designers includes:
any work related to rebuilding or refitting building interiors
industrial design or other design work
architecture or architectural draughting work.
Find out more about training
Designers Institute of New Zealand

(09) 529 1713 - designer@dinz.org.nz - www.dinz.org.nz
Check out related courses
What are the chances of getting a job?
Stronger demand for interior designers in Canterbury and Auckland
Employment opportunities are gradually improving for interior designers due to increased residential building activity in Canterbury and Auckland, and to a lesser extent in other New Zealand regions.
However, interior design remains a relatively small occupation, and competition for the limited number of vacancies is strong.
Types of employers varied
Most interior designers are either self-employed or work for small interior design or architecture practices. They may also work for:
construction consultancies
design showrooms
bathroom and kitchen design companies
furniture or homeware stores or manufacturers
polytechnics or universities as tutors and lecturers.
Sources
Hays, '2015 Hays Salary Guide' 2015, accessed April 2016, (www.hays.net.nz).
Ministry of Business, Innovation and Employment, '2006-2014 Occupation Data' (prepared for Careers New Zealand), 2015.
Statistics New Zealand, 'Building Consents Issued – October 2015', 30 November 2015, (www.stats.govt.nz).
(This information is a guide only. Find out more about the sources of our job opportunities information)
Progression and specialisations
Interior designers may progress by starting their own business or moving into a management role.
They may also specialise as a:
Commercial or Contract Interior Designer

Commercial or contract interior designers primarily work for companies, designing public spaces.

Residential Interior Designer

Residential interior designers work for private clients to help design interiors for existing or new homes. They may also work for kitchen and bathroom design companies.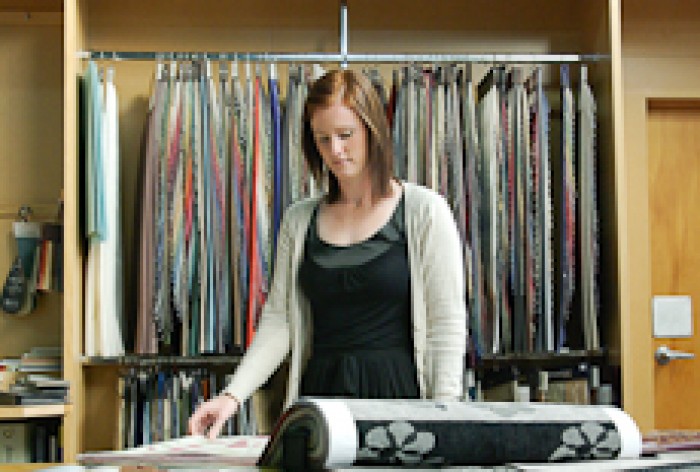 Last updated 6 July 2018