Pay
Qualified electricians usually earn
Source: The Electrical Training Company, Fluid Recruitment, Gridskills (Transpower), 2019.
Job opportunities
Chances of getting a job as an electrician are good due to a shortage of workers and demand for their services.
Pay
Pay for electricians varies, depending on skills, experience and the type of work they do.
Apprentice electricians may start on the minimum training wage. Typically, apprentices' pay increases as they pick up skills or complete unit standards.
At the end of their apprenticeships, electricians usually earn $24-$33 an hour.
Experienced electricians who may manage a small team usually earn $34-$38 an hour.
Electricians may be supplied with work vehicles, and national grid maintenance workers can earn allowances for working after hours and on public holidays.
Sources: DNA Electrical, careers.govt.nz research, 2019; Fluid Recruitment, careers.govt.nz research, 2019; RobLawMax, careers.govt.nz research, 2019; The Electrical Training Company (ETCO), 'Earn while you learn'; Gridskills (Transpower), careers.govt.nz research, 2019.
(This information is a guide only. Find out more about the sources of our pay information)
What you will do
Electricians may do some or all of the following:
interpret electrical information on diagram and plans
check diagrams and plans for errors
install electrical wiring and equipment
repair and replace electrical wiring, parts and equipment
safety-test work
keep records of problems they find, and the work they do
prepare job and other quotes, or provide information for quotes. 
Skills and knowledge
Electricians need to have knowledge of:
electrical theory, laws, codes, and standards of practice
how to install electrical wiring and fixtures
how to draw wiring diagrams and floor plans
basic maths and physics
safety procedures and first aid.
Self-employed electricians must also have business skills.
Working conditions
Electricians:
usually work regular business hours, but may work weekends, public holidays, or be on call
may work at construction sites or in existing buildings, power generation stations or substations
may work at heights
may work in enclosed, noisy, dirty, dusty, or hazardous conditions. 
travel to local work sites.
What's the job really like?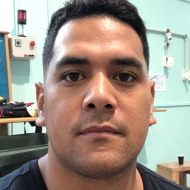 Sainila Tagi
Apprentice Electrician
Sainila Tagi knew it was time for a career change when his body started hurting.
"I was working with Dad in his stone masonry business, but my body got sore and it wasn't for me," says Sainila.
Pre-trade study to explore his options
So he did two pre-trade Certificates, found he liked electrical work, and now has 18 months to go on an electrician's apprenticeship.
"At first I wanted to explore my options, learn about it before I jumped in.
"Just learning about these formulas and how electricity functions, I found it very interesting.
"I locked my mind on the electrical field and knew that is what I wanted to do."
Advice to people wanting to be electricians
"If somebody was thinking a about a career in electrical, I would tell them to do it.
"It is fun and interesting and you learn heaps, get stuck in and work hard and they will enjoy it as much as I do, if not more.
"To go to a new job, do the work that needs to be done, then see it finished – I am always learning and there's a sense of pride in what I do."
Entry requirements
To become an electrician you need to complete an apprenticeship and gain a National Certificate in Electrical Engineering – Electrician for Registration (Level 4). Skills oversees electrical apprenticeships.
You also need to be registered with the Electrical Workers Registration Board.
There are agencies that match apprentices with employers.
Most employers also prefer that you:
have a driver's licence
have access to a car, to get to work, school and worksites.
pass a drug test.
Gridskills, part of Transpower, trains staff to work with high voltage power, for example in substations.
This training takes up two years and can be done by apprentices or qualified electricians.
Secondary education
Level 1 NCEA in maths, construction and mechanical technologies, English and science – preferably physics – is usually required to enter an apprenticeship.
For Year 11 to 13 learners, trades academies and the STAR and Gateway programmes are good ways to gain relevant experience and skills.
These programmes may help you gain an apprenticeship, but do not reduce the amount of time it takes to complete it.
You can also participate in Bright Sparks, which organises competitions, support and NCEA-approved training for students who are interested in electronics and robotics. 
Personal requirements
Electricians need to be:
accurate and methodical
practical and logical
good communicators
able to work well independently or in a team
safety-conscious
good at problem-solving
able to pass a colour vision test.
Physical requirements
Electricians need to be fit, healthy and strong, as the work involves climbing and lifting.
They also need to be comfortable working in confined spaces and at heights, as they may need to crawl through tight spaces under buildings and above ceilings.
Registration
Electricians need to be appropriately registered with the Electrical Workers Registration Board, unless they:
are going to work under the supervision of somebody who is
want to work while they are training, in which case they need a Limited Certificate.
Electricians need to complete a competency programme every two years to refresh their knowledge and renew their licence.
Find out more about training
ATT

0800 187 878 - info@att.org.nz - www.att.org.nz

Electrical Training Company (ETCO)

0800 275 3826 - helenb@etco.co.nz - www.etco.co.nz
0508 754 557 - support@skills.org.nz - www.skills.org.nz
Check out related courses
What are the chances of getting a job?
Construction boom and staff shortage drive demand for electricians
Demand for qualified electricians is expected to continue due to:
a construction boom for houses and commercial work, especially in wealthy areas with high population growth
an ageing workforce
a low number of school leavers entering electrical trade apprenticeships
the need for electricians who know how to work on new technologies
There are almost 30,000 registered electricians in New Zealand.
Electrician appears on Immigration New Zealand's long-term skill shortage list. This means the Government is actively encouraging skilled electricians from overseas to work in New Zealand.
Apprenticeships may become job offers
To become a qualified electrician, you need to do an apprenticeship.
Apprenticeships usually take four years and often turn into full-time job offers. High-voltage apprenticeships may differ.
Your chances of getting an apprenticeship are better if you have: 
experience in the electrical industry
a positive attitude
done a pre-trade programme.
Employment details are agreed by the apprentice and employer but always involve:
off-the-job theory and tests
on-the-job practical work experience.
Apprenticeships, internships, and graduate programmes may be offered by companies in the power sector.
There are agencies that match apprentices with employers.
Types of employers varied
Electricians may work for:
a contracting business
their own businesses
power generation companies
Transpower on the high voltage national grid
Sources
Ainsworth, A, technical specialist, Gridskills (Transpower), careers.govt.nz interview, September 2019.
Electrical Workers Registration Board website, accessed August 2019, (www.ewrb.govt.nz).
Flatman, M, candidate consultant, Allied Work Force, careers.govt.nz interview, August 2019.
Immigration New Zealand, 'Long Term Skill Shortage List', 27 May 2019, (www.immigration.govt.nz).
Miller, J, project business analyst, Skills NZ, careers.govt.nz interview, August 2019.
Ministry of Business, Innovation and Employment, 'Future Demand for Construction Workers', July 2017, (www.mbie.govt.nz).
Ministry of Business, Innovation and Employment, 'National Construction Pipeline Report', July 2018, (www.mbie.govt.nz).
Skills NZ website, accessed August 2019, (www.skills.org.nz).
Sole, J, chief executive offer, The Electrical Training Company, careers.govt.nz interview, August 2019.
(This information is a guide only. Find out more about the sources of our job opportunities information)
Progression and specialisations
Electricians may progress to become:
site supervisors
project managers
electrical engineers
consultants at building construction companies or engineering firms.
They may also become electrical inspectors or work with high voltages, by doing further training.
Electricians that work with low voltages (under 1000 volts) usually do domestic (house), commercial (new buildings and shop fittings) or industrial (factory) work.
Low voltage electricians may specialise in:
aviation
marine
security
the dairy industry
information systems and technology.
High voltage work (over 1000 volts) involves installing, maintaining and repairing electrical wiring and equipment in power stations, substations and other sites. 
These electricians are less likely to specialise.
Last updated 26 August 2020