Pacific Futures
A booklet in English and eight Pacific languages that introduces simple actions families and communities can take to help others navigate and develop their careers.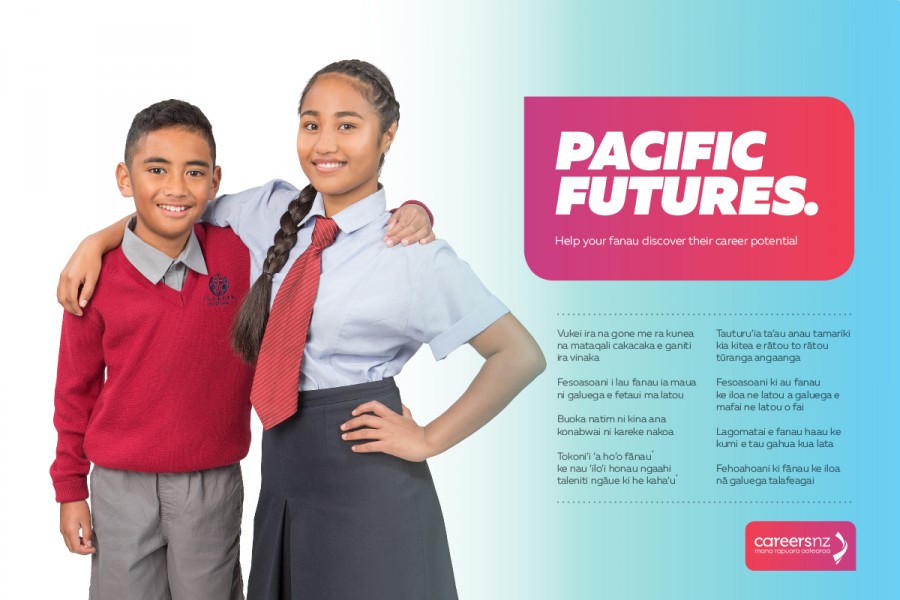 Help your young person discover their career potential.
Fiji
Vukei luuvemu me kunea na mataqali cakacaka e na ganati kya vinaka.
Samoa
Fesoasoani i lou alo ia maua sana galuega e fetaui lelei ma ia.
Kiribati
Buoka natim ni kunea ana konabwai ni karekean nakoana.
Tonga
Tokonia 'a ho'o tama' ke ne 'ilo'I hono ngaahi talēniti ngāue ki he kaha'u.
Cook Islands
Tauturu'ia atu ta'au tama i te kimi'anga aia i tana ka anoano no te rave anga anga'anga nāna.
Tuvalu
Fesoasoani ki tau tama o sala tena galuega mo te lumanaki.
Niue
Lagomatai e tama haau ke kumi e kotofaaga kua lata.
Tokelau
Fehoahoani ki tau tamaiti ke ia iloa nā itūkāiga gāluega e ono talafeagai ma ia.
Updated 9 Oct 2019