The future is bright for non-degree science, engineering and trades careers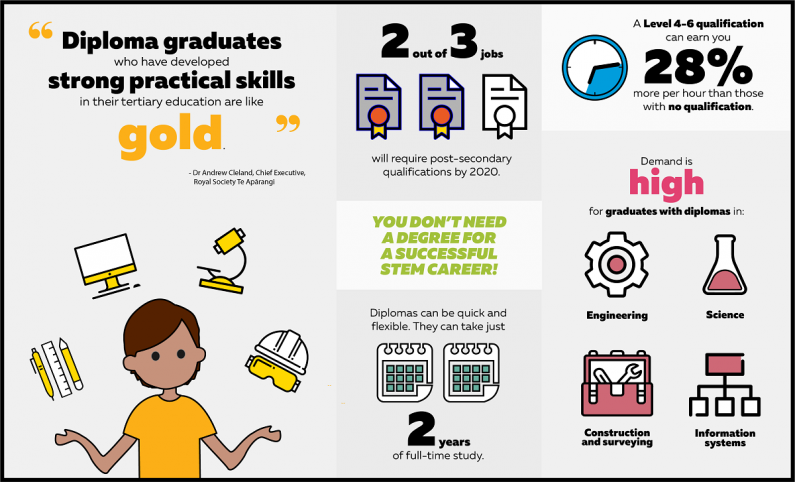 With the first year of tertiary study – or first two years of work-based learning– now fees free for many school leavers, it's a great time to get into a career in science, engineering, technology and the trades.
What's on this page?
Is your young person uncertain about the future and their options, and indecisive about going to uni?
With the first year of tertiary study – or first two years of work-based learning – now fees free for many school leavers, it's a great time to get into a career in science, engineering, technology and the trades. But statistics show that many young people are opting out of education and training.
Tertiary education an advantage, but remember to explore all options
In the year to June 2017, 10% of 15 to 19 year olds and 16% of 20 to 24 year olds were not in employment, education or training – an increase of 3% and 1% respectively on the previous year. One reason for students' indecision about continuing with their education is the widely held perception that they need to get a degree.
There's no doubt about the benefit of getting a tertiary qualification. Research shows that tertiary-educated people generally earn more than those who don't have a qualification. In 2016, people with a Level 4-6 diploma or certificate earned on average 28% more an hour, compared with those who had no qualifications. And an estimated two-thirds of jobs will require post-secondary qualifications by 2020. But does this mean all school leavers should opt for a three- or four-year degree?
A degree can definitely help boost your young person's career, but even if it comes at a reduced cost, that doesn't necessarily mean it's the right choice – highlighted by the number of students who drop out before they graduate. In 2017, 38% of students didn't complete their degrees within eight years of starting study. So over one-third dropped out.
Of course, people drop out of non-university-based courses too, but it's about understanding all the options before embarking on a tertiary journey. Some students are better suited to diplomas, apprenticeships and other technical qualifications, which the Government's fees-free policy covers.
Diplomas combine technical and practical skills
Diplomas often receive less recognition than degrees, but they provide valuable technical expertise and hands-on skills, which are in high demand.
For example, many employers looking for science technicians find it difficult to get graduates with the right technical and practical laboratory skills. Graduates with science degrees often compete for these roles, but are underskilled practically in comparison with those who have diplomas, and need significant on-the-job training.
Feedback received from industry by our science technician expert panel was that diploma graduates who had developed strong practical skills in their tertiary education were like gold.
A significant number of students who already hold degrees go from university to an independent training provider to get practical training to win a job as a technician.

Dr Andrew Cleland, Chief Executive, Royal Society Te Apārangi
This means a qualification like the New Zealand Diploma of Applied Science could be a more viable option for someone wanting to get into a science technician role. Students studying towards this spend more time gaining workplace experience and practical skills.
Demand is also high for graduates with diplomas in areas such as:
engineering
architectural technology (drafting)
construction and surveying
information systems.
These can lead to jobs such as:
To meet New Zealand's future engineering demands we need to double the number of NZDE [New Zealand Diploma in Engineering] graduates we currently have. An NZDE is an internationally recognised qualification that's in demand in New Zealand and around the world.

Angela Christie, Engineering e2e Programme Lead, Tertiary Education Commission
Diplomas can be a quicker and more flexible route to a good career than a degree – taking about two years of full-time study, but with the flexibility of being able to convert to a degree with an extra year of study. However, many diploma graduates have launched successful careers and some have become business owners or managers without needing to do degree-level study.
Trade certification can lead to valuable skills and opportunities
If a diploma isn't the best fit for your school leaver, remember that apprenticeships and New Zealand certificates are also covered by the fees-free policy. New Zealand currently has a shortage of tradespeople so a New Zealand Certificate in the electrical, plumbing or building trades is a good option for school leavers.
Good tradespeople develop specialist knowledge, and can identify and solve complex problems – skills that are hard to replace with technology.
So take the time to explore non-degree training options before taking up a fees-free offer. You could find a world of possibility.
Find out more
Sources
Education Counts, 'Earnings Premium by Qualification Level', September 2017, (www.educationcounts.govt.nz).
Education Counts, 'Looking at the Employment Outcomes of Tertiary Education', September 2017, (www.educationcounts.govt.nz).
Engineering Education to Employment website, accessed November 2017, (www.engineeringe2e.org.nz).
Futureintech, 'NZ Tertiary Qualifications Explained', accessed December 2017, (www.futureintech.org.nz).
The Listener, 'Tertiary Education is Invaluable – Despite What Some Companies Say', November 2017, (www.noted.co.nz).
Royal Society Te Apārangi, 'Science Technicians Workforce', May 2017.
Stuff, 'Calls for More Support to Help University Students', 30 March 2016, (www.stuff.co.nz).
Stuff, 'School Leavers Face More Choices than Ever Before', 12 November 2017, (www.stuff.co.nz).